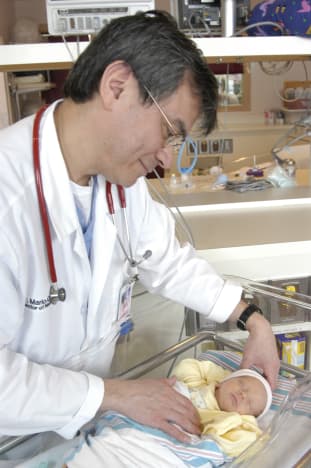 Affiliated with the Regional Center for Maternal and Pediatric Care in partnership with Tufts Medical Center, the Level IIB Special Care Nursery at Lowell General Hospital provides comprehensive, multidisciplinary care for infants born prematurely, infants with feeding difficulties, and those with other medical issues requiring close monitoring and assessment.
The 10-bed nursery is staffed with board-certified neonatologists (physicians specializing in the care of premature and sick infants) around the clock from our partnership with Tufts Medical Center, as well as pediatric physicians and neonatal nurses. These clinicians are highly skilled at resuscitating and stabilizing critically ill infants, and preparing them for transfer to a Level III neonatal intensive care nursery if necessary. Once stabilized, such infants are transferred back to the Special Care Nursery for ongoing care closer to home.
Babies (and their parents) First in Everything We Do
All babies in the Special Care Nursery are connected to monitors. Some also require intravenous therapy, oxygen, and other medical equipment. Although such a "high tech" environment may seem overwhelming to parents, our goal is to involve parents as much as possible in the care of their infants, and to help promote bonding.
With a strong focus on family-centered care, our dedicated team of physicians, nurses, lactation consultants, social workers, dietitians, and physical therapists work collaboratively with parents to educate and support them. We also recognize and respect your need to spend private time with your infant. Our state-of-the-art monitoring system allows parents to spend alone time with their infants in private parenting rooms, while providing continuous monitoring of their infant to the staff in the nursery.


Patient Stories
In partnership with Tufts Children's Hospital, Lowell General Hospital provides a Level IIB Special Care Nursery that gives comprehensive, multidisciplinary care to infants born prematurely up to 32 weeks.
Giving birth while COVID-19 positive
The Chehab family from Lawrence
Premature twins thrive with expert neonatology care around the clock.
Multidisciplinary care for infants
Amanda from Ayer
Giving birth while COVID-19 positive The Chehab family from Lawrence
Multidisciplinary care for infants Amanda from Ayer
Related Information: