Inpatient & Outpatient Lactation Services
Inpatient Lactation Services
All professional staff on the Mother/Infant unit are able to provide support for our breastfeeding moms. Because we understand that sometimes there may be additional needs, a Certified Lactation Consultant is available to visit privately with new moms in the Mother/Infant Unit. Lactation consultants offer breastfeeding assistance and answer questions about breastfeeding before mom and baby head home.
Certified lactation consultants are available 7 days a week. They provide lactation support to all nursing mothers whose infants were born prematurely, as well as for mothers of full term infants who request support. The lactation consultants also provide outpatient follow up and support in the hospital setting after the infants are discharged home.
We understand that breastfeeding is a learned art, and a new mother needs knowledge and practical assistance to help her have a positive breastfeeding experience. The breastfeeding support programs at Lowell General Hospital are designed to offer education, counseling and support so that breastfeeding can be a rewarding experience for both mother and baby.
After your discharge from Lowell General Hospital, you may have additional concerns about breastfeeding. We welcome you to call a lactation consultant at 978-937-6334 with your questions. If you are calling regarding an urgent matter or are concerned regarding your babies health, please contact your pediatrician. 
Lactation Consultants
Benefits of Breastfeeding
According to the American Academy of Pediatrics, breastfeeding ensures the best possible health as well as the best developmental and psychosocial outcomes for the infant. Recent studies show that babies are less likely to develop ear infections, respiratory illnesses and diarrhea when breastfed exclusively for six months. Breastfed babies may be less likely to be obese in childhood.
Some studies suggest decreased rates of:
Sudden infant death syndrome in the first year of life
Incidence of insulin-dependent (type 1) and non-insulin-dependent (type 2) diabetes mellitus, lymphoma, leukemia, and Hodgkin disease, hypercholesterolemia and asthma
Breastfeeding has also been associated with slightly enhanced performance on tests of cognitive development, and if done during a painful procedure such as a heel-stick for newborn screening provides a soothing calming effect on infants
Maternal Health Benefits
Earlier return to pre-pregnancy weight
Decreased risk of breast cancer
Decreased risk of ovarian cancer
Possibly decreased risk of hip fractures and osteoporosis in the postmenopausal period
---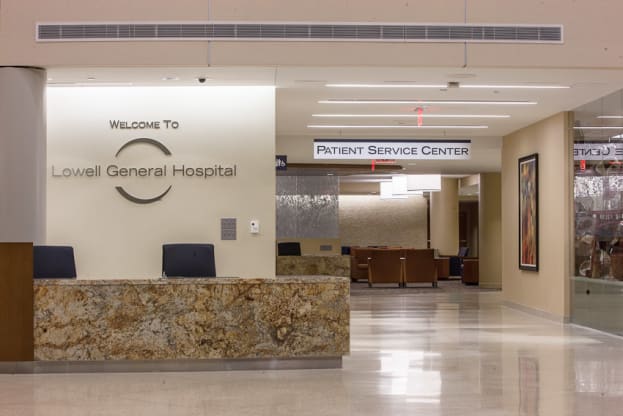 Outpatient Lactation Clinic
Occasionally, breastfeeding problems occur that are not easily solved by telephone advice. In this instance, you and your baby may benefit by making an appointment to see a Certified Lactation Consultant in our Outpatient Breastfeeding Clinic, located in the Patient Service Center at Lowell General Hospital Main Campus. The Lactation Consultant will assist you in identifying the cause of the problem and will work with you to plan the management of your situation.
At your individual clinic visit, the Lactation Consultant will review your breastfeeding course, observe a feeding session and provide you with a breastfeeding plan. If appropriate, she will notify your doctor of your progress and her recommendations. Most insurance companies will cover the cost of an appointment with a Certified Lactation Consultant. Some insurance companies will require a referral from your primary care physician prior to your appointment. To make an appointment with one of our Lactation Consultants, please call 978-937-6334.