HPC Moms Do Care Lowell Support Program for Opioid Disorder
Funded by a grant from the Massachusetts Health Policy Commission (HPC), Lowell General Hospital's HPC Moms Do Care Lowell is a unique program that offers enhanced care and services for pregnant women with opioid use disorders, as well as their babies that may have been exposed to opioids during pregnancy. Women enroll in the program during pregnancy, and receive support until six months after the baby is born.
Moms Do Care (MDC) works in partnership with each participant to develop an individualized plan for recovery. MDC provides peer-to-peer support; referrals to medication-assisted treatment, prenatal care, and mental health care; and connections to community-based services to help women achieve and maintain recovery.
For their newborn babies, early diagnosis is key to help reduce the severity of symptoms of opioid withdrawal at birth, a condition known as Neonatal Abstinence Syndrome (NAS). NAS often occurs when an infant has been exposed to certain drugs, especially opioids, while in the womb. HPC Moms Do Care Lowell's comprehensive approach to treatment before, during and after pregnancy, can help women with opioid use disorder have a healthier pregnancy and be better prepared to care for their newborn.

Learn more about Neonatal Abstinence Syndrome

Program Services
Peer Mentoring: Peer Mentor Moms are essential to the Moms Do Care program. Because of their lived experience, they are in a unique position to understand the challenges of pregnancy and parenting while in recovery. They work in partnership with moms, coaching them to build the skills and supports they need to be successful in recovery. As living examples of recovery, they also combat stigma and shift individual and community attitudes about substance use disorders.
Care Integration: Moms Do Care staff work with women to coordinate services and navigate a system of services that can be very complicated. All providers partner in the continuum of care from first prenatal visit to 6 months postpartum and are considered part of a seamless, integrated care team. Moms Do Care works collaboratively with a wide variety of providers including obstetricians, pediatricians, nurses, Early Intervention, substance use treatment programs, and the Department of Children and Families.
"We meet moms where they are at, and support their recovery any way we can. These are moms who love their babies, have a lot of strengths, and we give them all the wraparound services they need to move in the direction they want for their families," says RN Care Manager Kathy Mahoney.
Preparation for Pregnancy, Delivery, and Parenting: Moms Do Care staff help women learn what to expect during and after pregnancy. HPC Moms Do Care Lowell offers parenting groups for women in the program. Staff can arrange prenatal visits with providers who understand NAS to prepare women for what to expect from the hospital and social services in the days after delivery.
For newborns: All newborns with exposure to opioids during pregnancy are monitored in the hospital for several days after birth to look for signs and symptoms of opioid withdrawal. The symptoms of NAS include fussiness, difficulty eating and sleeping, and tremors. The best way to ease symptoms is through the mother's care; holding the baby with skin-to-skin contact, breastfeeding and swaddling. A quiet room with dim lighting also helps to calm the baby.
Babies showing strong signs of withdrawal may need medication to help ease their symptoms. This is usually an opioid medication used to decrease symptoms of withdrawal. Even if medications are needed to ease withdrawal, parental support and care is still the primary form of treatment for newborns with NAS. Every effort is made to keep newborns and parents rooming-in together during the newborns stay in the hospital.
HPC Moms Do Care Lowell works in partnership with other service providers to ensure a network of support, with the goal of a healthy and safe transition home for both mother and baby.
FAQs
Resources and Education
HPC Moms Do Care Lowell brochure

Your Care Team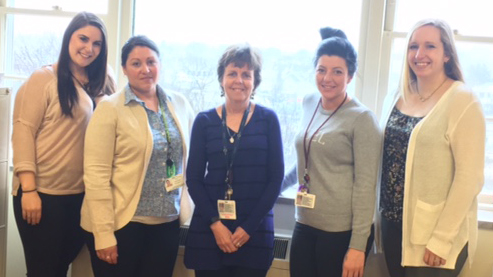 Contact Us
For information, call 978-934-8220 and ask to speak to the Care Coordinator.
Location
1 Hospital Drive, 5th floor, Lowell, MA 01852