Anticoagulation Management Service
Lowell General Hospital Anticoagulation Management Services (AMS) provides care for patients undergoing anticoagulation therapy. Currently managing over 1,100 patients a month from various specialties such as Cardiology, Orthopedics, and Oncology, we closely monitor each patient's treatment plan and follow up with prompt dosage adjustments where necessary. AMS helps provide better patient outcomes and provides counseling and education for those patients on blood thinner medications such as Warfarin (Coumadin). 
Warfarin, also known as Coumadin, is a blood thinner that is used to treat blood clots and lower the chance of blood clots forming or moving. Blood clots can cause stroke, heart attack, or other serious conditions if formed in the leg or lungs. Warfarin is prescribed to those with atrial fibrillation and those that have had a heart-valve replacement.
Warfarin use must be closely monitored, as the degree of anticoagulation often changes depending on the patient's diet, concurrent medications, and ongoing illnesses. This variability can lead to clot formation or bleeding. In order to maintain therapeutic balance, blood needs to be sampled routinely and appropriate adjustments in warfarin dose must be made.
Hours and Location
Anticoagulation Management Service
600 Clark Road
Tewksbury, MA
Monday-Friday 8:30 a.m. to 5:00 p.m.
Phone: 978-323-7005
Fax:  978-323-7010
Clinical Services & Programs
Conditions that may require anticoagulation therapy include:
Atrial Fibrilation
Acute Myocardial Infarction with Severe LV Dysfunction
Cardioembolic stroke
DVT
PE
Cerebral venous thrombosis
Hypercoagulable disorders
Valvular heart disease
Left ventricular dysfunction
Post-operative hip and knee surgery
Services provided
Blood testing
Ongoing patient assessment and education
Review and management of medication interactions
Blood test result interpretation
Adjustment of warfarin dose  
Scheduling of next blood tests and followup
Counseling regarding: diet, possible interactions between warfarin and other medications, vitamins, and herbal supplements, the effects of illness, and safety behaviors 
Your Care Team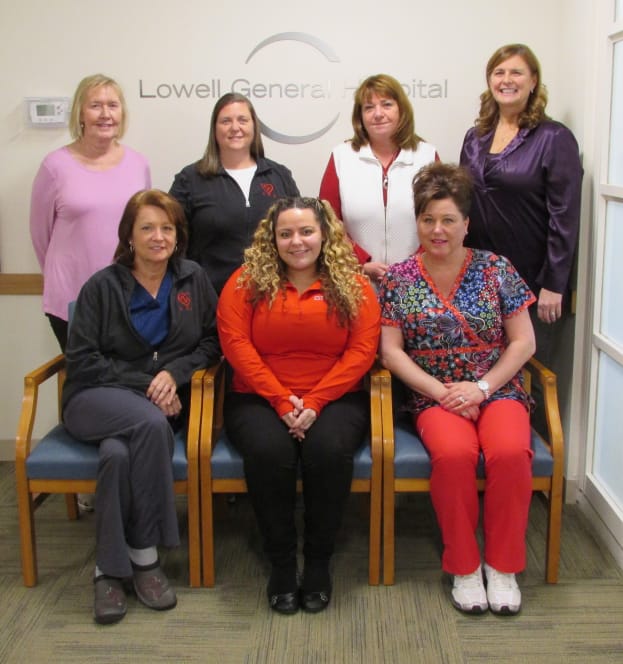 The staff at AMS includes Dr. Mirit Ibrahim, MD, Medical Director of the AMS and cardiologist with Merrimack Valley Cardiology. Dr. Ibrahim creates the AMS specific guidelines utilizing the American College of Chest Physicians CHEST Guidelines, her peers and the Pharmacy and Therapeutics Committee (P&T) committee.
In addition, our team of registered nurses and support staff  strive to provide Complete connected care by notifying physicians regarding concerns with their patients, and provide close follow up and monitoring around procedures and illness.  The staff ensures a safe transition of care by tracking their patients when they are out of AMS's care in hospitals, rehabilitation centers, or when a patient is out of state.
Helpful Links