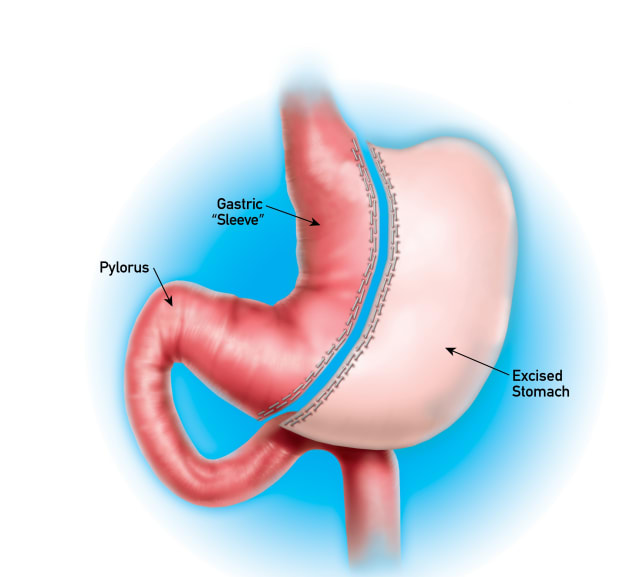 Sleeve gastrectomy is a type of weight-loss surgery available at Lowell General Hospital's Center for Weight Management and Bariatric Surgery in Chelmsford.
During this procedure, the surgeon removes about 85 percent of the stomach so that it takes the shape of a tube or sleeve.
"This restricts food and calorie intake similar to gastric banding, but the digestive system processes the food the same way once it leaves the stomach, so there's no risk of nutrient malabsorption as there is with gastric bypass, which bypasses a portion of the small intestine," explains Lowell General's Chief of General Surgery Michael Jiser, MD, FACS, an expert in bariatric surgery.
Choosing which procedure to undergo is mostly a matter of personal preference, Dr. Jiser notes. "But certain patients who can't undergo gastric bypass now have another option besides banding," he says.
"The sleeve gastrectomy expands our offerings, giving patients another option that's a very effective tool for weight loss," he adds.


Success Stories - Sleeve Gastrectomy
On the advice of her physician, Erin Bradley opted to undergo a procedure called a sleeve gastrectomy. Just over a year later, she's lost 164 pounds and is preparing for her first half marathon.
Erin from Lowell
Chose Sleeve Gastrectomy
In seven months, she lost 90 pounds. After one of her four sisters successfully underwent gastric bypass surgery in 2010, 51-year-old Donna Kelleher finally realized that it was time to deal with her own weight issues.
Donna from Methuen
Chose Sleeve Gastrectomy
"I had always been thin until I had my two kids," says Methuen resident Sheri Panas, 39. "Then I put on extra weight that I just couldn't lose. I felt like I was wearing a sumo wrestler suit and it was really uncomfortable."
Sheri from Methuen
Chose Sleeve Gastrectomy
Erin from Lowell Chose Sleeve Gastrectomy
Donna from Methuen Chose Sleeve Gastrectomy
Sheri from Methuen Chose Sleeve Gastrectomy