Nuchal Translucency Screening
Important First-Trimester Screening Test Available for Moms-to-be at Lowell General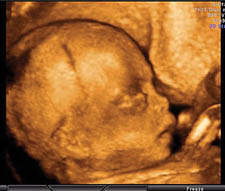 A prenatal test known as nuchal translucency (NT) screening can help your obstetrician assess your baby's risk of Down syndrome as well as some other chromosomal abnormalities and congenital heart problems.
Also called the nuchal fold scan, this painless and noninvasive ultrasound exam must be performed when you're between 11 and 14 weeks pregnant, and it's done in conjunction with a blood test.
How does it work?
The NT test uses ultrasound to measure the clear (translucent) space in the back of your baby's neck (an area known as the nuchal) during the first trimester of pregnancy. Babies with abnormalities tend to accumulate more fluid in the nuchal during the first trimester, causing this space to be larger than average.
Like any screening test, the NT scan doesn't give you a diagnosis. But it can evaluate your baby's risk for certain health or developmental problems with a high degree of accuracy. This, in turn, can help you and your doctor decide whether you want to have additional, more invasive testing such as chorionic villus sampling (CVS) or amniocentesis to determine if your baby is actually affected.
The NT scan test has been performed in the U.S. since 1995, usually at major medical centers because it requires special training for sonographers (ultrasound technicians) and physicians, and an investment in high-resolution ultrasound equipment. These professionals must be certified by the Fetal Medicine Foundation in London, which establishes international competency standards and provides the software that enables a physician to assess your baby's risk.
"Lowell General felt strongly that this test should be available to moms and babies here in the community, so we've invested in the necessary training and equipment so that women don't have to travel to Boston for nuchal translucency screening," notes Brian Bailey, manager of ultrasound services. The test is offered in the department of Maternal and Fetal Medicine on the main hospital campus.