Magnetic Resonance Imaging (MRI)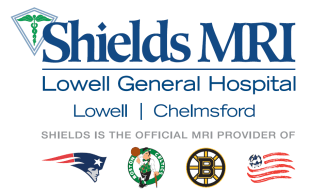 We are proud to partner with Shields MRI for quality, patient-centered MRI services in our locations at the Main, Saints and Chelmsford campuses. A leader in diagnostic imaging for more than 25 years, Shields Health Care Group has an unwavering commitment to quality imaging and interpretation.
For more information, or to schedule an appointment, call Shields MRI at Lowell General Hospital: 800-258-4674. Ask to speak with a technologist if you have any questions.
Hours at:
Lowell General Hospital's Main Campus 7:00am-10:00pm, Monday-Saturday; Sunday 7am-9pm
Lowell General Hospital's Chelmsford Campus 7:30am-10:00pm, Monday-Friday; 7:30am-6:00pm Saturday
Lowell General Hospital's Saints Campus 7:30am-10:00pm, Monday-

Friday; 7:30-6pm Saturday-Sunday
Types of MRI Exams
Body
Orthopedic
Neurological
Vascular
Preparation for MRI Exams
There is no preparation required for any MRI exam listed above. However those who have a pacemaker, cochlear implant, neurostimulator or an aneurysm clip should NOT have a MRI. Please speak with your physician if you are unsure.