Cardiac catheterization monitors the heart's functioning and reveals the location of any blockages in the coronary arteries. The procedure can help your doctor determine whether you're a candidate for an angioplasty or cardiac surgery such as a bypass or valve repair. 
This procedure is done in a specialized Cardiac Catheterization Laboratory, by board certified cardiologists, cardiac nurse specialists and radiology technologists. With it, the cardiologist can evaluate the heart and arteries at work by watching the movement of a contrast solution flow through your heart's chambers and blood vessels. to see whether the coronary arteries are narrowed or blocked.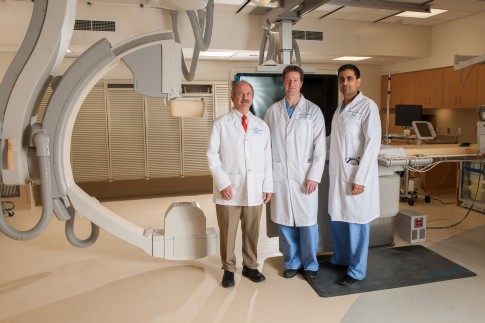 The procedure helps determine whether you have disease in your coronary arteries, and if so, pinpoint the size and location of plaque that may have built up in your coronary arteries. It is generally done to determine:
Whether you may need bypass surgery or angioplasty.
The degree of valvular disease and the need for valve replacement or repair.
The cause of a weakened heart muscle for medical or surgical treatment.
The newest procedure room at Lowell General Hospital's cardiac catheterization lab is equipped with state-of-the-art Philips technology with high-resolution imaging and the Allura Clarity option. Clarity IQ filters out more x-ray radiation; therefore reduces radiation exposure to the patient, physician and staff.