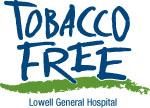 Lowell General Hospital is proud to be tobacco-free. The use of tobacco and tobacco products is strictly prohibited on all Lowell General properties, including vehicles parked on our properties. No smoking or use of tobacco products is allowed anywhere on our campuses. This policy applies to patients and their visitors as well as to employees, physicians, volunteers and vendors. Thank you for adhering to this policy, which creates a healthier environment for our patients, visitors and staff. For more information and to learn more or for other resources call 877-LGH-WELL.
Please review the Tobacco-Free & Smoking Policy
Tobacco-Free & Smoking Policy
The use of tobacco and smoking products such as (cigarettes, cigars, chewing tobacco, pipes, electronic cigarettes, etc.) is prohibited in or on all Lowell General Hospital owned or leased buildings, grounds, parking lots, parking garages, or vehicles on its properties. No exceptions to this policy will be granted.
Signs will be posted at strategic locations around Lowell General Hospital's facilities to notify staff, visitors and patients of this policy.
Patients and visitors will be informed of the tobacco and smoking policy upon arrival or admission as appropriate through distribution and/or explanation of the policy.
No physicians with privileges at Lowell General Hospital may write orders for a patients to use tobacco or smoking products on any Lowell General Hospital properties.
All employees are authorized to reinforce this policy with courtesy and diplomacy to all persons observed using tobacco and smoking products on any Lowell General Hospital property.
Resources for When You are Ready to Quit
Speak with your inpatient provider or primary care physician
Massachusetts Smokers Resources
www.mass.gov/massachusetts-tobacco-cessation-and-prevention-program-mtcp

American Lung Association
www.lung.org 
American Heart Association
Quit Smoking for Good brochure
1-800-AHA-USA1
National Cancer Institute
www.smokefree.gov
1-877-44U-QUIT
American Cancer Society
How to Quit Smoking
1-800-ACS-2345
QuitWorks NH
www.quitworksnh.org
1-800-QUIT-NOW (1-800-784-8669)