Cancer Close-Up: New Program Lets Patients See Their Disease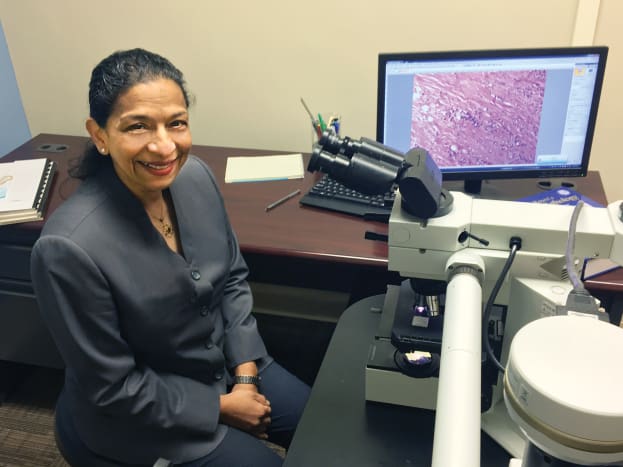 When a patient is facing a possible cancer diagnosis, the physician studying blood and tissue samples to make that determination typically goes unseen.
Pathologists are often referred to as "the doctor's doctor." Working in the lab, they are the unsung heroes of medicine, peering through microscopes at slides full of cells to make the most accurate diagnosis so the best course of treatment can be determined. But rarely, if ever, do they meet the person they are trying to help.
To the excitement of many pathologists, that is beginning to change. Lowell General Hospital is one of the first hospitals in the country to bring the practice of pathology out of the shadows.
Dr. Lija Joseph, Chief of Pathology and Laboratory Medicine at Lowell General, is receiving national attention for her Patient Pathology Consult Program, a ground-breaking initiative that allows patients into the lab to see their slides and understand how their disease is affecting their body. As one patient told Dr. Joseph, "I want to see the dragon I am about to slay."
When Dr. Joseph received support from Lowell General's administration to start the free program in the spring of 2017, she expected only a few patients might take advantage. To her surprise, she has met with more than two dozen patients, ranging in age from 13 to 83.
Dr. Anasuya Gunturi, a medical oncologist at the Lowell General Hospital Cancer Center, has referred a number of her patients to Dr. Joseph's program and says the response has been nothing but positive. She said while it may be too much to process for some individuals battling cancer, others are eager to understand their disease at a microscopic level.
As one patient told Dr. Joseph, "I want to see the dragon I am about to slay."
"Lija does such a great job explaining it that anyone can understand what's going on," Dr. Gunturi says. "For those people, it really adds to their overall satisfaction about their care at the Cancer Center."
Because there was no template to work from, Dr. Joseph created the program from scratch to ensure it was done the right way. A big part of that process was making sure patients would have a safe, comfortable space that was secure and private, where they can look at their biopsies under a microscope or on a computer screen.
For Joellen Scannell, who underwent successful treatment for breast cancer at the Cancer Center in 2017 (see Joellen's story below), the experience was eye opening. A former science teacher who went on to become a principal, she had a natural curiosity to learn more about her disease.
"It made it so real," she says. "It really helps you understand that the treatment you are getting is the right treatment."
Dr. Joseph says she is now hearing from pathologists around the country who are hoping to learn more, and thanking her for bringing pathology directly to the patients they care for but rarely see.
"We all started in the journey in medicine to help the patient," Dr. Joseph says. "Even though I know as a pathologist I am helping these people, we've always been invisible. It's been very exciting to meet the patients in person."