A Full Circle Approach to Heart Health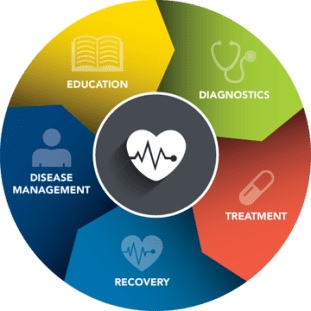 At Circle Health, we are fully committed to the fight against heart disease. With a strong focus on educational programs, screenings, diagnostics and treatments, coupled with the latest recovery and disease management options, we work to help individuals reduce their risk of life-changing illness, disability or death due to heart attack or stroke. There is much you can do to prevent cardiovascular disease in the choices you make every day, such as exercising, eating healthy foods, not smoking, and managing risk factors like high blood pressure, high cholesterol and diabetes.
Our Circle Health physicians, providers and member organizations — Lowell General Hospital and Tufts Medicine Care at Home (formerly Circle Home and Visiting Nurse Association of Greater Lowell), work with our partners at Lowell Community Health Center to offer a collaborative approach to heart health and cardiac care for thousands of residents throughout the Merrimack Valley.
Lowell Community Health Center is Often First Line of Defense in Cardiac Care
As Lowell's largest provider of outpatient care, Lowell Community Health Center is often the first place that families turn to, especially when they know something's just not feeling right.
Recently, a local mom brought her beautiful 4-year-old daughter, Niem*, to the Health Center's Pediatrics department. Niem had been running a low-grade fever, but her mother sensed it could be something more serious. Because she had come to trust her daughter's pediatrician, Berryzad Ramadan, MD, and because she knew the Health Center had Khmer-speaker interpreters on site, Niem's mom naturally turned there for advice. Although the child had previously been diagnosed with a heart murmur, it was not viewed as a serious risk at that time. However, when the Health Center's nurse took Niem's vital signs, she detected a very rapid heart rate. Not wanting to take any risks with such a young child, clinicians immediately sent Niem to Lowell General's Emergency Department where it was confirmed that she, in fact, had developed much more than a fever. Niem needed open heart surgery, and was immediately sent to a specialist in Boston. The quick-thinking medical teams literally saved Niem's life.
"Our mission at Lowell Community Health Center is to make sure that patients like Niem get the quality care they need regardless of family income, what language they may speak, or what challenges they have yet to overcome," says Dorcas Grigg-Saito, Chief Executive Officer. "We are proud to be part of Greater Lowell's full circle approach to heart health."
To learn more, visit Lowell General's Heart and Vascular Center
*Name changed to preserve patient confidentiality