Robotic Surgery Brings Pinpoint Precision to Head, Mouth and Neck Surgery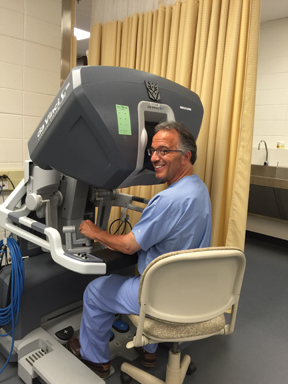 For several years, the state-of-the-art da Vinci® Si Surgical System has enabled Lowell General surgeons to treat several forms of cancer and other conditions with minimally invasive techniques that can significantly decrease side effects and complications, while cutting down recovery time.
The da Vinci, essentially a remote controlled robot, has been used in urology, gynecology, and general surgery for several years at Lowell General Hospital to perform some of the most complex and delicate procedures with unmatched precision.
Now, Lowell General otolaryngologist Arthur Lauretano, MD, FACS is using the da Vinci robot to treat cancers and other conditions of the head, mouth and neck, enabling him to access areas that required much more invasive techniques previously.
Lauretano, Medical Director for the Head and Neck Multidisciplinary Clinic at the Cancer Center at Lowell General Hospital, has already utilized the da Vinci robot with several patients.
He says this new surgical technique has allowed his team to avoid tracheotomy, as well as reduce the need for radiation in some patients and help those with severe sleep apnea.
Every patient is different, and patients are closely evaluated by physicians to determine whether they are candidates for this cutting edge surgery.
"Using the robot, we do more selective incisions while at the same time preserving function of the involved structures," Lauretano says. "We now have the ability to access the base of the tongue, the tonsils and the entrance into the esophagus."
Because Lowell General takes a multidisciplinary approach, each patient's case is reviewed by clinicians from several different areas. Circle Health and the Lowell General Hospital Cancer Center teams makes sure a patient is supported every step of the way, from diagnosis to recovery.
"It's one stop shopping," Lauretano says. "We cover all facets of a patient's journey."