Survivors Have Reason to Celebrate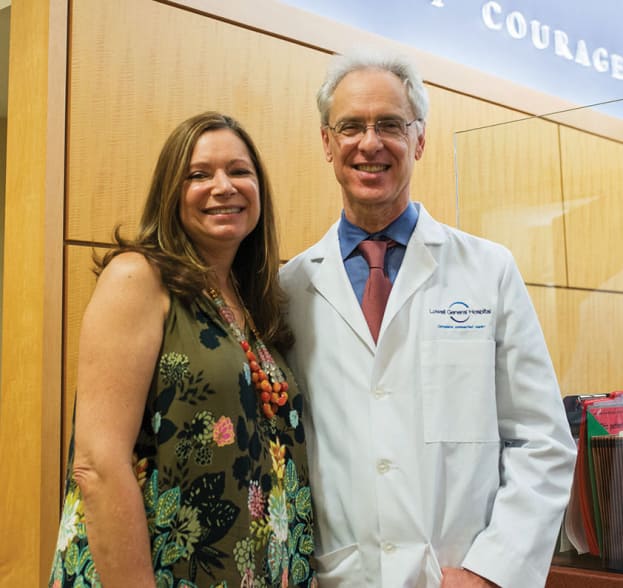 When Luisa Gemma recently turned 60, she didn't mourn the milestone. She wanted to celebrate. "My life is full and complete," she says. "I feel alive!"
Gemma, of Westford, has survived two bouts of cancer in the past 20-plus years. During that entire time, her oncologist has been Dr. Murat Anamur, who she believes saved her life each time.
As the Cancer Center turns 20 this year, Gemma epitomizes the vision leaders of Lowell General Hospital had when they chose to bring comprehensive cancer care into a community hospital setting. "One-stop shopping" for patients was the ultimate goal.
"We felt cancer patients deserved this comprehensive, interdisciplinary approach under one roof," says Dr. Anamur, now Chief of Medical Oncology and Medical Director of Cancer Care Associates. "Chemotherapy, radiation, physician offices, labs and support systems should all come together under one roof."
The center opened in 1998, and the headline on a story on the new facility in the Lowell Sun read "LGH brings Boston to Lowell." Patients would have access to many different specialists in one place, often in one appointment, close to home. Treatment plans would focus on the whole person, not just their cancer.
"This is identical to a (Boston) tertiary center's approach," Dr. Anamur says. "The same level of expertise is being duplicated here, with the difference of easy access and far more personal care. Here, we know who you are."
For Gemma, that personal approach meant everything. In the late-1990s, she was diagnosed with non-Hodgkins lymphoma, which at the time was being treated with relative success, but with no guarantees.
Though the center had yet to be built, the center's patient-centered approach was already taking shape. With radiation and chemotherapy, Gemma became a cancer survivor. At the center's ground-breaking in 1998, she was there with a hardhat and shovel, representing cancer survivors across the Merrimack Valley.
Dr. Anamur continued to follow her care, and a decade later, aware of her family's breast cancer history and her own brush with the disease, he directed her to get an MRI rather than her annual mammogram. Cancer was detected in its earliest stage, and Gemma was treated successfully with a lumpectomy.
"Our involvement, our job, does not end when the person's cancer treatment is completed," Dr. Anamur says. "We are part of their lives, and we have every interest to see how they are doing, and what their challenges are."
Two decades later, technology and treatments have advanced, and access to specialists has expanded through the Wellforce partnership with Tufts Medical Center. The Cancer Center is one of the few community-based centers that participates in clinical trials and does research to discover innovative treatment. Support groups, integrated therapies and a one-year survivorship program are in place for cancer survivors.
But for Gemma, the biggest difference was the approach of the staff. She said she never felt like just another cancer patient. "I felt so loved, so taken care of," she says. "It was like visiting friends, and I got the best medical care. I tell everyone I know – you don't have to go to Boston for anything. You have Lowell General in your backyard."
Learn more about the comprehensive services available at the Cancer Center.