A Full Circle Approach to Diabetes Prevention and Treatment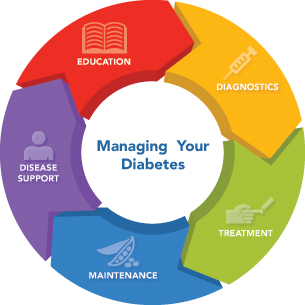 More than 21 million Americans have been diagnosed with diabetes, but there are probably 8 million more who have it and don't know it. It's estimated that one in three individuals in the U.S. are overweight or obese, and that's a major contributor to this disease.
At Circle Health, we are fully committed to the fight against diabetes. With a strong focus on education, diagnostics and treatments, coupled with the latest in disease management options and support, we work to help individuals reduce their risk and better manage this life-changing illness. Our Circle Health physicians and member organizations — Lowell General Hospital and Circle Home — work with our partners at Lowell Community Health Center to offer a collaborative approach to diabetes care for thousands of residents throughout the Merrimack Valley. In addition to this collaboration, we know how important ongoing communication with our patients is. So our Circle Health providers are also proactively reaching out to patients to remind them to complete important blood tests to ensure their blood sugar levels are well controlled and helping them schedule their recommended annual eye exams.
A board-certified specialist in endocrinology, Miguel A. Ariza, MD, FACE, ECNU, is a provider at the Lowell Diabetes & Endocrine Center at Lowell General Hospital and serves as medical director of the hospital's Diabetes Management Center. Here he shares some important information about diabetes:
Diabetes FAQs