Cutting-Edge Therapy Can Significantly Reduce Pain Without the Need for Pills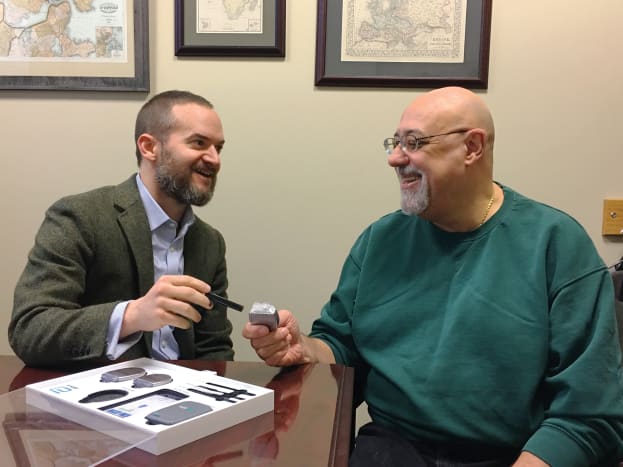 After developing complications following surgery for a hernia in 2011, Frank Ciaravolo's quality of life quickly deteriorated under a constant barrage of debilitating nerve pain.
Until then, he had led an active life, working as a chef for 37 years, and avidly pursuing his passion for gardening. But the chronic pain, combined with electrical shock-like sensations, impaired his ability to function, and he was soon forced to give up his job.
"Even daily chores such cooking, laundry or shopping became very difficult to do," Ciaravolo says, "and the shocks made it hard to sleep."
Ciaravolo consulted with numerous physicians, all of whom attempted – unsuccessfully – to manage his condition through opiate-based medications, which did little for the pain and left him in a haze of drowsiness. Determined to find a solution, Frank turned to the Pain Management Center at Lowell General Hospital. He met with Dr. Benjamin Henkle, who recommended a new treatment: DRG (dorsal root ganglion) therapy, which uses an implantable device to modify pain signals to the brain.
The treatment targets isolated, chronic pain that may start in a lower extremity (foot, knee, hip and groin) following an injury or surgical procedure and grows worse over time. For patients with pain that is limited to these specific areas of the body, DRG therapy often succeeds in pain reduction where other treatments have not, or provided only partial relief.
"In the past, we didn't have the tools to treat patients like Frank with nerve pain in the groin or lower extremities," says Dr. Henkle. "Now, with DRG therapy, we have an option to provide electricity – which is the language of the nervous system – to control the pain response."
DRG therapy involves a minimally invasive surgical procedure, in which a small generator is implanted under the patient's skin. Thin, insulated wires carry electrical impulses from the generator to a patient's dorsal root ganglion, a cluster of nerve cells in the spine that regulate signals and sensations as they travel to the brain.
Patients who are undecided about the therapy can be fitted with a temporary device, allowing them to determine its effectiveness for pain prior to undergoing an implant.
"This truly is a 'set it and forget it' type of treatment, which doesn't require maintenance or active involvement from the patient," says Dr. Henkle. "They no longer have to constantly think about their chronic pain and dysfunction and can move on with their lives."
The treatment has transformed Ciaravolo's life. His level of pain has decreased by about 85 percent and the electrical shocks have disappeared completely. He stopped taking all of his pain medications, and is steadily regaining his independence and ability to do daily activities.
"I wasn't able to move or take a step," he says, "but now I can get up and walk, which is fantastic."
"Our goal for patients who undergo this procedure is to get them off all of their opiate pain medication," Dr. Henkle says. "Most of these patients will get 70 percent or more pain relief from DRG therapy, and in general, opiates will not continue to be part of the treatment plan."
Ciaravolo's level of pain will continue to decrease as the DRG therapy fully takes effect. He is optimistic about his future, and potentially going back to work.
"More than anything, I'm glad to be off the opiates," he says. "My friends have seen a difference and I'm much happier."