Tufts Medical Center Specialists Keep Advanced Care Close to Home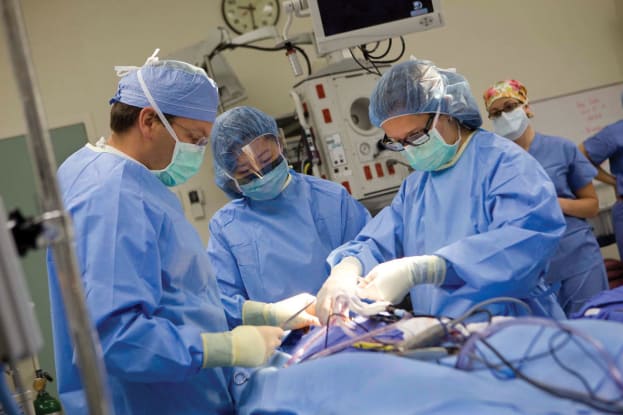 A key piece of the Wellforce partnership between Lowell General and Tufts Medical Center is the ability to bring Boston's highly specialized level of care into the community, allowing more people with serious conditions to be treated close to their homes and families.
The latest benefit of this strategic partnership aims to expand local access to advanced care from Boston specialists for patients facing possible lung cancer and other life-threatening diagnoses. Dr. Laurence Brinckerhoff, Chief of Thoracic Surgery at Tufts MC, and Dr. Marianne Barry, a Tufts MC interventional pulmonologist, are bringing their tertiary expertise to Lowell on a weekly basis in collaboration with Circle Health and Lowell General Hospital providers.
"No one wants to go to Boston if they don't have to," Dr. Brinckerhoff says. "Our goal is to keep most of the cases that can be done in Lowell local, with really high quality and really good outcomes."
A key piece of Dr. Brinckerhoff's work initially will be to support cancer care at the Cancer Center, working collaboratively with Lowell General's multidisciplinary team of medical and radiation oncologists, and patient navigators.
His primary focus will be on treating lung nodules identified through Lowell General's successful Low-Dose CT Lung Cancer Screening Program that aims to identify lung cancer in high-risk patients at its earliest stages. Dr. Brinckerhoff will be joined in Lowell by Dr. Marianne Barry, an interventional pulmonologist from Tufts MC who is able to diagnose and treat lung conditions through bronchoscopy, which is an endoscopy in the windpipe, and other advanced techniques.
"We're bringing a team-oriented approach to this program," he says. "The great thing about Lowell General is that the team approach to care is already there."
Dr. Brinckerhoff plans to grow the thoracic program over time to offer surgical options for benign and malignant chest, lung and esophageal conditions, providing another layer of care for many cancer and Intensive Care Unit patients who would otherwise require a trip to Boston.
Dr. Brinckerhoff says the program will be an extension of the collaboration already in place for Greater Lowell-area patients transferred to Tufts MC through the Wellforce partnership.
"As we grow the expertise at Lowell General, the number and type of patients that are impacted by the program will grow," Dr. Brinkerhoff says. "In the end, patients will be getting better, more timely care, by the right person in this new program."
Do you qualify for lung cancer screening?
Lung cancer screening is quick and easy and is covered by Medicare and many insurance payors based on qualifications. You may qualify for a low-dose CT lung cancer screening if you meet all of these criteria:
Are between 55 and 77 years old
Have no signs or symptoms of lung cancer
Are a current smoker or have quit within the last 15 years
Have smoked the equivalent of at least one pack a day for 30 years
Do not have any general health or other exclusions
If you qualify, you will need an order from your physician to schedule your screening exam. If you have any questions related to our Lung Cancer Screening Program, please contact our Lung Cancer Screening Program Ambassador at 978-614-3202.