Convenient Care Arrives in Dracut
When you are ready to take control of your health, a little convenience can go a long way.
For people in and around Dracut, the gateway to good health arrives at the corner of Broadway and Loon Hill road beginning in mid-September. Circle Health Dracut will give patients easy access to urgent care, a patient service center with testing and x-rays, primary care providers, and an obstetrics and gynecology practice under one roof. The new, 27,000 square foot facility will also include the Diabetes and Endocrine Center.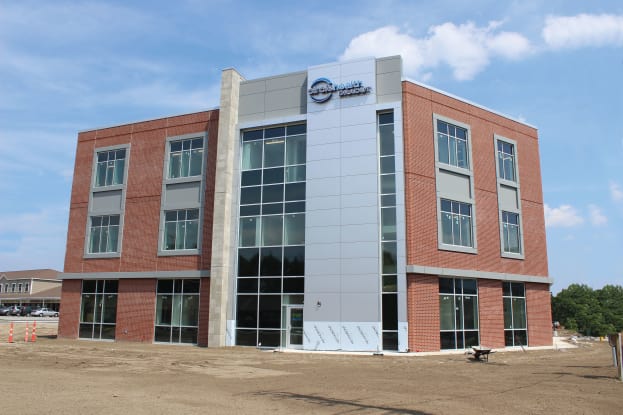 "This new center is the latest example of how we can expand access to care by bringing that care into the communities we serve," says Jody White, CEO of Circle Health and Lowell General Hospital. "We are proud to be able to bring this new level of Complete connected care to Dracut with this beautiful new facility."
For many patients in Dracut, Lowell and nearby communities, the convenience and care provided at Circle Health Urgent Care centers will prove to be a high-quality alternative to the Emergency Room.
What sets Circle Health Urgent Care centers apart is our ability to connect follow-up care for patients. When a patient is seen for a non-life threatening condition, a Circle Health physician can treat the problem and share that information with providers throughout the Circle Health network.
Dr. Roxanne Latimer, Medical Director of Circle Health Urgent Care, uses the example of an injured athlete. The patient can walk in or make an online appointment, be seen by a doctor, get x-rays and secure a follow-up appointment with his or her primary care doctor or specialist all in one visit. Those connections can even be made on weekends.
For instance, a patient who comes in on a Saturday afternoon after an injury can often get a consultation with a Circle Health orthopedist by Monday, and occasionally, if surgery is required, the surgery occurs during that same week. Meanwhile, the patient's primary care physician is made aware of the injury and specialist referral so they can follow the patient's progress as well.
"That kind of continuity, connection and broader depth of specialists are features most urgent cares don't have," Dr. Latimer says. "I feel like it gives our patients a better experience, and it also allows us to see, perhaps, more serious injuries than some urgent cares can because of those resources."
The new Dracut facility was made possible by local leaders in Dracut, who secured a $2.5 million state grant to make improvements to the adjacent intersection and sidewalks in the area.
Circle Health Dracut joins outpatient centers in Westford and Billerica in the Circle Health network. Circle Health Tewksbury will open early in 2019. For more information about all of the services available at Circle Health Dracut or to make an online appointment for urgent care, visit www.circlehealth.org.