TeamWalk for CancerCare Raises Record-breaking $920,000 for Local Cancer Patients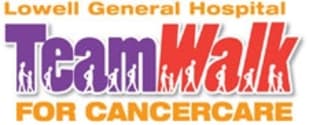 Lowell General Hospital's 14th annual TeamWalk for CancerCare held on May 19th raised a record-breaking $920,000 to provide services and support for local cancer patients and their families. The Merrimack Valley's largest single-day fundraising event brought more than 5,000 walkers, volunteers, and supporters to the Tsongas Center on a beautiful Sunday morning. Many participants donned t-shirts for loved ones as they walked the 3-mile or 6-mile route through historic downtown Lowell and its river ways.
"I'm incredibly impressed by the number of people that come out for TeamWalk every year," said Norm Deschene, President and Chief Executive Officer, Lowell General Hospital. "The fact that the event continues to grow and we set another fund raising record in the face of other overwhelming needs such as the One Fund Boston shows just how deeply our community cares for family, friends, and neighbors undergoing cancer treatments. I'm deeply humbled by the commitment of our supporters and the many moving stories about how Lowell General Hospital's Cancer Center has helped families cope with cancer."
All funds raised directly support patients at the Cancer Center at Lowell General Hospital and those fighting cancer throughout the Merrimack Valley. The generosity of contributions to TeamWalk provide transportation to and from treatments, support groups and services, wigs, select medication for those in need, and many health and wellness programs.
This year's event was once again hosted by Matt Noyes, chief meteorologist at NECN and Lori Grande, co-host of the JW & Lori Morning Show on Country 102.5 WKLB. Rene Rancourt of the Boston Bruins performed the National Anthem during opening ceremonies accompanied by the Color Guard from Lowell High School. Lowell Mayor Patrick Murphy, members of the New England Patriots Cheerleaders and the Dracut Pop Warner Cheerleaders were also on hand to cheer on the walkers and volunteers.
"I could not be happier or more proud of the efforts made by everyone involved with this event," said Kevin Campbell who served as volunteer chair. "Having lost my wife to cancer I know first-hand how important it is to have support. The funds raised at TeamWalk provide patients and their loved ones with hope while battling the disease. To know that some of the day-to-day services they need are being underwritten by this event is a big relief for many families."
Since the walk began in 2000, more than six million dollars has been raised to provide assistance to well over 18,000 people in the community. The difference this event makes directly impacts others – enhancing the likelihood of completing treatment, connecting patients and families to resources, and improving quality of life at each step along the way.
The total amount raised by TeamWalk 2013 continues to grow as donations are still being accepted. Remaining checks may be hand-carried or mailed to TeamWalk for CancerCare, c/o Lowell General Hospital, 295 Varnum Avenue, Lowell, MA 01854 or donations by credit card maybe made online.