TeamWalk for CancerCare Raises $716G for Local Cancer Patients
Outpouring of community support pushes fundraiser close to three-quarters of a million dollars
Breaking all-time records, the 11th Annual TeamWalk for CancerCare hosted by Lowell General Hospital on May 16 collected $716,450 to provide services and support for local cancer patients and their families. The Merrimack Valley's largest single-day fundraising event brought more than 5,000 walkers, volunteers, and supporters to walk the 3- or 6.2-mile route through historic downtown Lowell and its river ways.
All funds raised go directly to the patient assistance fund to support patients at the Cancer Center at Lowell General Hospital. The generosity of contributions to TeamWalk provides transportation to and from treatments, support groups and services, wigs, medication costs for those in need, and many health and wellness programs.
This year's event welcomed master of ceremonies and honorary chair "VB" from Fox 25 Morning News, and honorary chair Mrs. Massachusetts, Jane Marshall who lead the walkers on the 6-mile course.
Since the walk began in 2000, more than four million dollars has been raised to provide assistance to well over 10,000 people in the community. The difference this event makes directly impacts others - enhancing the likelihood of completing treatment, connecting patients and families to resources, and improving quality of life at each step along the way.
Survivor honoree Beverley Siebert, of Dracut has been a leading participant in TeamWalk for eleven years. "I continue to support this walk, because I continue to see it working and making a difference in people's lives," Beverly said. "This money stays locally and goes directly to the patients who need it most. I have faith that one day there will be a cure for cancer, but in the meantime, we need to help those dealing with it and make their lives easier. It's a very special thing to be part of."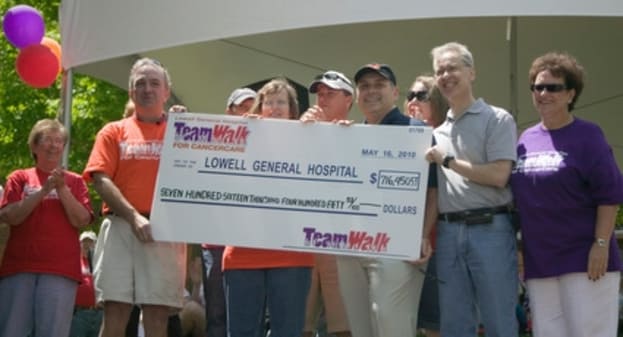 Read the story by Andrea Gregory, Sun correspondent in the Lowell Sun.The total amount raised by TeamWalk 2010 continues to grow as donations are still being accepted. Remaining checks may be hand-carried or mailed to TeamWalk for CancerCare, c/o Lowell General Hospital, 295 Varnum Avenue, Lowell, MA 01854 or donations by credit card may be made online.The event comes together on a large scale through yearlong planning, the support of generous corporate sponsors, hundreds of volunteers and the thousands of walkers and those who support them with pledges.