Lowell General Hospital Awards Medical Staff Scholarships
Local Students Receive Support to Pursue Higher Education in the Field of Health Science
Two young achievers were recently awarded with the Lowell General Hospital Medical Staff Scholarship this year. Sanyukta Inamdar of Chelmsford and Colleen Shea of Bradford, Mass. were named 2010 LGH Medical Staff Scholarship recipients. Each student demonstrated exceptional accomplishments in areas of academic, cultural, athletic, and civic efforts during their high school careers.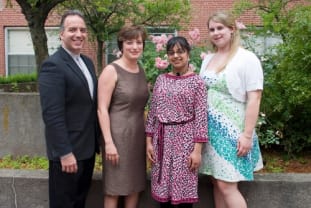 The 2010 Annual Lowell General Hospital Medical Staff Scholarship was presented by Dr. Arthur Lauretano, medical staff president -elect and Dr. Nonnie Estella, medical staff president to Sanyukta Inamdar, graduate of Chelmsford High School, and Colleen Shea, graduate of Central Catholic High School.
Sanyukta Inamdar is the daughter of Manjusha Inamdar, Senior Clinical Pharmacist at Lowell General Hospital. She graduated from Chelmsford High School and will attend Cornell University in New York in the fall where she will attend the College of Engineering and major in either computer science or electrical engineering. She plans to pursue the field of computational linguistics and natural language processing.

Colleen Shea is the daughter of Kevin Shea, PHO Business Analyst at Lowell General, and has been a volunteer in the LGH Gift Shop for the past five years. She graduated from Central Catholic High School and will be attending Northeastern University where she will major in chemistry. She intends to become a surgeon.

The Medical Staff Scholarship Fund is established and maintained by the physicians of the hospital. The fund supports the future of healthcare with a financial award to graduating high school/secondary school seniors who are LGH employees (or children of LGH employees) and who are enrolling in a health science program.