Lowell General Hospital announces devastating impacts of ballot question 1
Government mandated nurse staffing ratios would cost the hospital $15.1 million in Year 1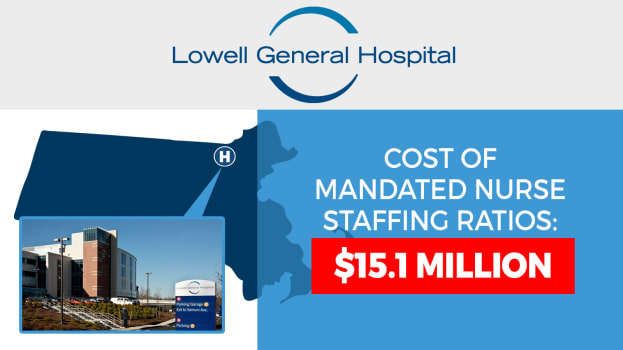 BOSTON, MA – Lowell General Hospital today announced the significant negative impact mandated nurse staffing ratios would have on its viability and capacity to provide safe, quality care to patients across the region. Question 1 on the ballot this November requires rigid staffing ratios that will devastate community hospitals and behavioral health facilities across Massachusetts.
"Our region counts on Lowell General to treat every patient to the best of our ability. To do that we rely on nurses, physicians, aides, technicians, and other caregivers," said Cecelia Lynch, RN, Vice President of Patient Care Services and Chief Nurse Executive at Lowell General Hospital. "If Question 1 passes, the high quality care that our nurses and care team provide together will be threatened as we struggle to comply with the rigid mandate. The $15 million cost generated by Question 1 in the first year alone is a devastating hit to a community hospital like ours. It will force us to cut programs and change care delivery models in order to stay open."
As a Magnet® organization, a national designation reserved for hospitals who engage nurses at the highest level of decision making, Lowell General Hospital prides itself on the care that it delivers and the professionalism of its nursing staff. Nurses at Lowell General have a strong voice in how the Hospital staffs and cares for its patients. This mandate will threaten that culture. More significantly, the cost to Lowell General to meet the mandated ratios will require major programmatic changes to care that decreases access to vital health services. To comply with the massive costs associated with the rigid ratios included in Question 1, patients will be forced to wait for beds to come available if every nurse is already at their mandated number of patients. According to an independent study by Mass Insight and BW Research Partners, Question 1 will cost Massachusetts' health care system $1.3 billion in the first year, and $900 million every year thereafter. This cost will be passed on to hospitals, impacting access to care, and increasing emergency room wait times.
The ballot question would require that hospitals across the state, no matter their size or specific needs of their patients, adhere to the same rigid nurse staffing ratios within all patient care areas at all times. It makes no allowances for rural or small community hospitals, holding them to the same staffing ratios as major Boston teaching hospitals.
"As a nurse, I rely on my autonomy to make real-time decisions in life or death situations," said Sharon Bourassa, Registered Nurse at Lowell General Hospital. "Question 1 will strip us of this hard-earned ability. It is the wrong choice for Massachusetts."
The ballot question is opposed by the American Nurses Association - Massachusetts, Emergency Nurses Association - Massachusetts Chapter, Organization of Nurse Leaders, Infusion Nurses Society, Massachusetts Association of Colleges of Nursing, Academy of Medical-Surgical Nurses' Greater Boston Chapter, the Western Massachusetts Nursing Collaborative, the Massachusetts College of Emergency Physicians, the Massachusetts Medical Society, the Massachusetts Health and Hospital Association, the Massachusetts Council of Community Hospitals, the Conference of Boston Teaching Hospitals, and other healthcare and business leaders across the state.
"There are no scientific studies or reports that demonstrate the effectiveness of government mandated, one-size-fits-all nurse staffing ratio for improving quality of care, patient outcomes or professional nursing practice." said Donna Glynn, President of the American Nurses Association and a Nurse Scientist for the VA Boston Healthcare System. "In fact, no studies evaluating nurse staffing ratios reported a magic number as the single factor to affect patient outcomes or job satisfaction. This ballot question is ignoring scientific fact around what is best for nursing practice, decision making and quality patient care."