Lowell General Emergency Department Patients to Suffer Under Question 1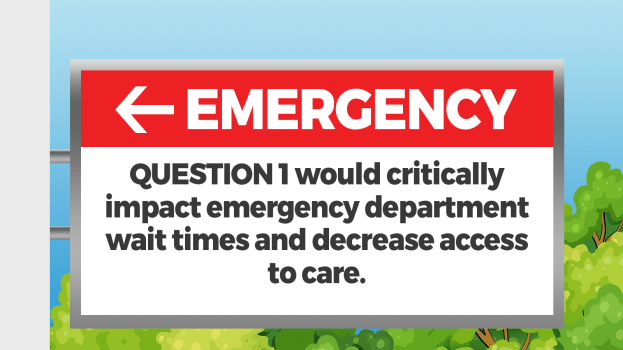 Proposal would limit ED capacity at Lowell General, reducing access to critical care
BOSTON, MA – October 10, 2018 – Lowell General Hospital announced today its opposition to mandated nurse staffing ratios, citing the devastating impacts these rigid government requirements would have on the hospital's ability to provide emergency care to patients. Slated to be Question 1 on the ballot this November, these unnecessary and unfounded staffing requirements will dramatically increase emergency room wait times and delay life-saving services in hospitals across the state.
"At Lowell General Hospital, we have one of the busiest Emergency Departments in the state, and the region's residents rely on access to these services," said Dr. Nathan MacDonald, Chief of Emergency Medicine. "If this measure passes and our Emergency Department reaches its mandated patient limit during peak times like flu season, it will result in large numbers of patients backed up in the waiting room until a nurse becomes available, even if some nurses have patients with limited needs."
The enormous costs and operational hurdles associated with the nurse staffing ballot question will cost Lowell General an estimated $15.1 million in the first year alone. Increased wait times in the Emergency Department can lead to delayed services throughout the hospital, reducing access to care and timely services.
There are no exceptions to this mandate, even in the event of an unexpected influx of patients – such as a multi-car crash or large fire. According to anindependent study by MassInsight and BW Research Partners, mandated nursing staffing requirements would also exacerbate the current nursing shortage, which could disproportionately affect Emergency Department staffing.
The ballot question would require that hospitals across the state, no matter their size or specific needs of their patients, to adhere to the same rigid nurse staffing ratios within all patient care areas at all times. The petition does not make allowances for rural or small community hospitals, holding them to the same staffing ratios as major Boston teaching hospitals.
"Lowell General is a not-for-profit community hospital that offers impeccable medical and surgical services for patients, but our ability to provide that trusted care will be hindered due to this government-mandated law," said Dr. Arthur Lauretano, Chief Medical Officer for Lowell General Hospital and Circle Health. "Increased wait times in the Emergency Department and restricted nurse ratios will prove to be detrimental to patients' needs for immediate care. This is unacceptable in a department on which patients rely for potentially life-saving treatment."
The ballot question is opposed by the American Nurses Association - Massachusetts, Emergency Nurses Association - Massachusetts Chapter, Organization of Nurse Leaders, Infusion Nurses Society, Massachusetts Association of Colleges of Nursing,  Academy of Medical-Surgical Nurses' Greater Boston Chapter, the Western Massachusetts Nursing Collaborative, the Massachusetts College of Emergency Physicians, the Massachusetts Medical Society, the Massachusetts Health and Hospital Association, the Massachusetts Council of Community Hospitals, the Conference of Boston Teaching Hospitals, and other healthcare and business leaders across the state.