Lowell Community Health Center Achieves Top-Ranking Recognition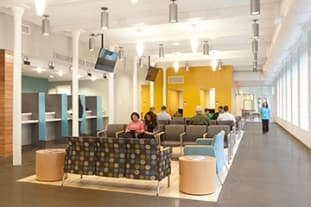 Lowell Community Health Center was recently recognized as a Level 3 Patient-Centered Medical Home (PCMH). This recognition by the National Committee for Quality Assurance (NCQA) is a model of 21st century primary care that combines access, teamwork, and technology to ensure a patient-centered healthcare experience. PCMH Recognition is about building meaningful patient relationships, making healthcare easier to access, and ensuring that care is of the highest quality.


Patient-Centered Care
Fortunately, most people only need to see a doctor for an annual physical exam or occasional sick visit. For many community members, health needs are more complex and require additional services such as nutrition counseling, physical therapy, or special visits to monitor blood pressure.
Many patients who visit Lowell Community Health Center face a similar reality. To make it simpler for patients to navigate their care, the Health Center offers a diverse range of services all in one location. A patient can easily see a doctor, visit a therapist, and pick up a prescription in the same visit. With this patient-centered approach, there are more opportunities to coordinate complex healthcare needs, referrals, and information sharing.
Successful coordination of care begins with building patient-centered relationships. With each person who walks through the Health Center's doors, the emphasis is not only on offering quality and accessible care, but also establishing relationships with the medical team so that long-term relationships make patients feel at home. Feeling at home means being comfortable with discussing a diagnosis, including family and loved ones in the healthcare experience, and building a care plan to improve health. Through a patient-centered medical approach, all of a person's healthcare and wellness needs can be addressed.
PCMH Recognition ensures that our patients benefit from a high level of teamwork and coordination among our medical providers, care teams, and external healthcare providers.
Helping patients manage their care involves coordinating care with Lowell General Hospital, Circle Health agencies, and specialty practices in the community.
Care That is Easy to Access
PCMH Recognition is also about accessibility. Last year, Lowell Community Health Center opened its new state-of-the-art, 100,000 square-foot facility on Jackson Street to increase access to healthcare for the people of northeastern Massachusetts. The new center has allowed us to expand hours with evening and Saturday appointments. An Access Department was created to meet the needs of walk-in patients, resulting in less use of the emergency departments at Lowell General Hospital and other local hospitals. Additionally, Lowell General Hospital now offers blood collection, ultrasound, and other screening services on the first floor of the new Health Center.
Quality Care
To achieve the top rank, Level 3 PCMH Recognition, the Health Center met six quality standards and 27 elements of performance excellence. Standards align with the joint principles of the patient-centered medical home established with the American College of Physicians, the American Academy of Family Physicians, the American Academy of Pediatrics and the American Osteopathic Association.
Lowell Community Health Center met key program components in the following areas:
Adaptation to patients' cultural and linguistic needs.
Written standards for patient access and continuity of care.
Use of patient feedback materials.
Responsive care management techniques with an emphasis on preventive care.
Use of information technology for prescriptions, test and referral tracking, and coordination with other healthcare providers.
Use of evidence-based guidelines to treat chronic conditions.
National Committee for Quality Assurance President Margaret E. O'Kane says "NCQA's PCMH Recognition shows that Lowell
Community Health Center has tools, systems and resources to provide our patients with the right care at the right time."
To learn more about Lowell Community Health Center, visit www.lchealth.org.