Golf Fights Cancer Donates $150,000 to Lowell General Hospital
Representatives from Golf Fights Cancer recently visited the main campus to present a check for $150,000 to the Cancer Center at Lowell General Hospital. The donation, raised from the 9th annual Good Guy Invitational Golf Tournament held at Vesper Country Club on October 6, 2014, supports the purchase of a PerfectPitch™ 6 Degrees of Freedom Couch for Lowell General Hospital's Cancer Center. This addition to the hospital's linear accelerator is designed to improve patient positioning and will allow for more accurate beam targeting during radiotherapy and radio surgery.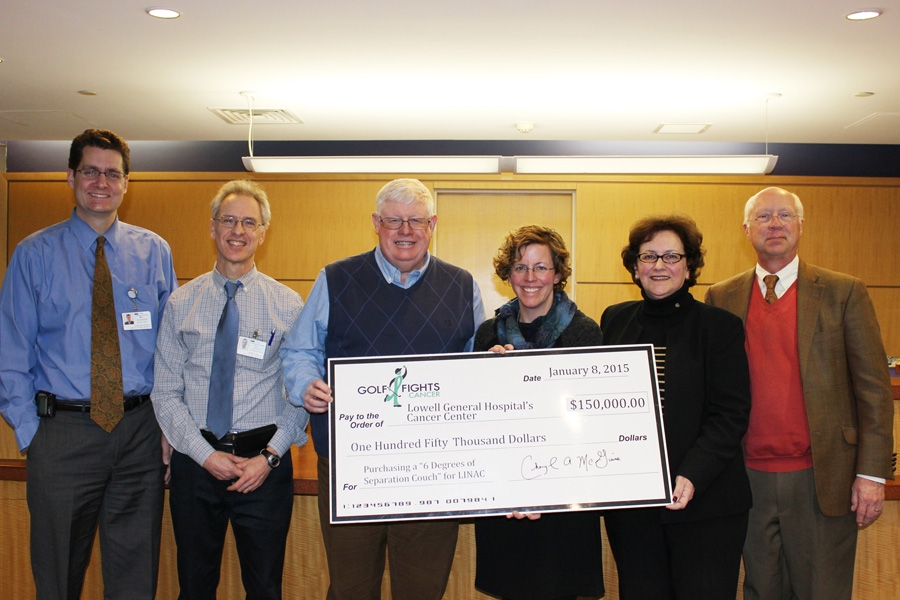 Golf Fights Cancer is a 501c3 non-profit organization dedicated to raising funds for cancer-related charities and research organizations with the goal of fighting cancer and making financial contributions that can make immediate, tangible differences.
Lowell General Hospital thanks Golf Fights Cancer for this incredibly generous donation and their support of our cancer patients!