Cupola Award recipients honored for leadership and contributions to hospital
Each year, Lowell General Hospital employees nominate managers and supervisors for their outstanding leadership and contributions to the organization. The Rewards and Recognition Council vote for the year's Cupola Award recipients based on the nominees' abilities to meet the hospital's Standards of Performance and the dimensions of Completed connected care through personal stories or specific actions shared by the nominees' team.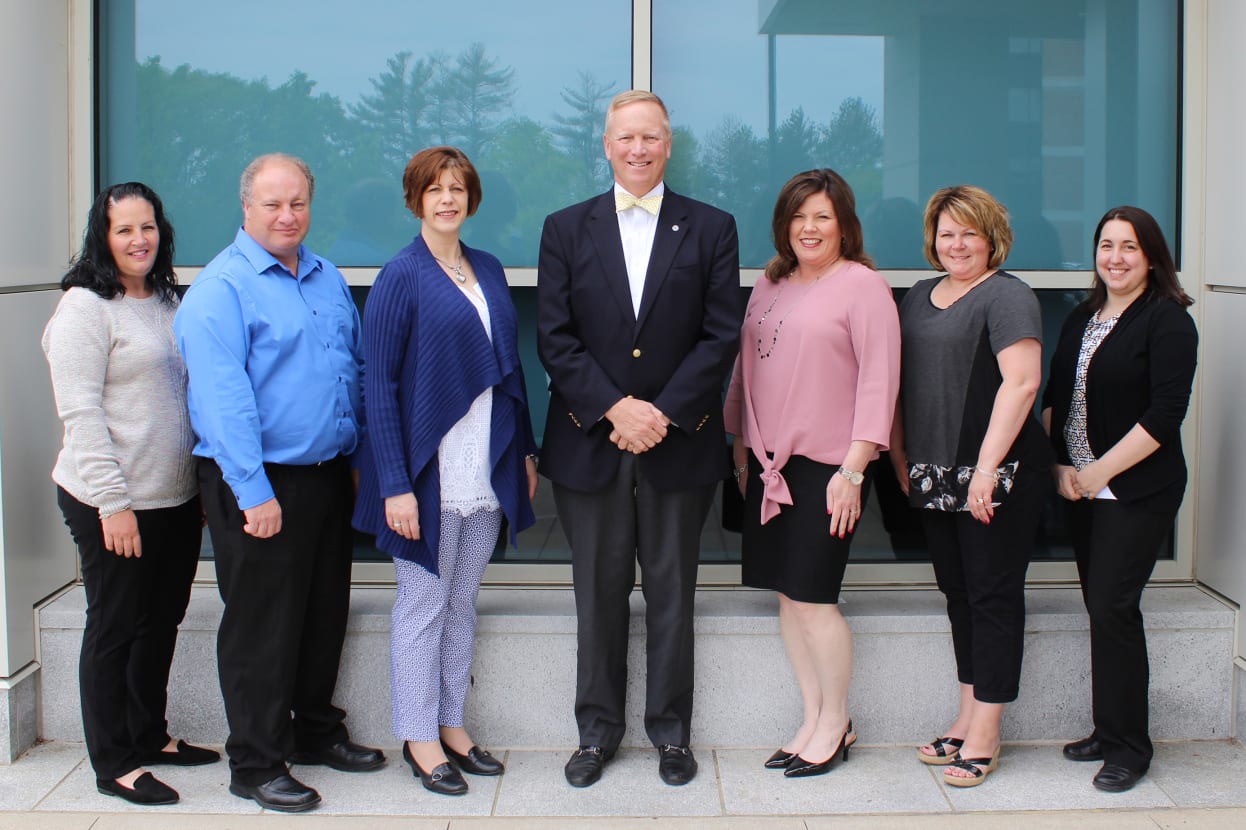 We are proud to announce this year's Cupola Award recipients: Pam Benitez, Manager, Environmental Services; Julie Cassidy, Clinical Manager, Progressive Care Unit; Lisa Feeley, Practice Manager, Dracut Family Medicine; Sherry Roberge, Chief Radiation Therapist, Radiation Oncology; Sarah Sanderson, Supervisor, Hematology; and Mark Vallante, CPFT Clinical Manager, Respiratory Therapy.
Here is a closer look at the winners:
Pamela (Pam) Benitez, Manager of Environmental Services
Pam has been with Lowell General Hospital for four years. Pam is known to be professional, patient, understanding, and compassionate. Her open-door policy allows her to assist her staff members with whatever they may need. She listens to her staff patiently and works to find a solution, whether it is a personal or professional issue. Pam's constant check-ins with her staff allow for patients' comfort to come first. According to her staff, "She has a great heart and shows the upmost respect to all of her staff members. She is the best manager we ever had."
Julianne (Julie) Cassidy, Clinical Manager of the Progressive Care Unit
Julie has been with Lowell General Hospital for 15 years. She is very knowledgeable, a great communicator, easy to approach, fair, decisive, hardworking, and always puts patients first in everything she does. She is dedicated, evaluating the unit constantly to make sure everything is running smoothly so that the best care can be given to patients. Julie's compassion and drive to build a positive work environment shines through. She never turns anyone away, listens when you need someone talk to, encourages staff to come together and put their best work forward, and pushes everyone to go the extra mile. Julie can be seen answering call lights on busy days, saying hello to patients in their rooms, introducing herself to patients and their families, and doing whatever she can do to build a positive working environment. One of her staff members said, "Julie is an excellent manager and she is one of the reasons I love this hospital and continue to work here even though I live an hour away."
Lisa Feeley, Practice Manager at Dracut Family Medicine
Lisa has been with Lowell General Hospital for eight years. She manages three different practices and makes sure she is always accessible to staff, using an effective combination of humor and hard work to mentor her team members. Lisa has been the heart and soul of Dracut Family Medicine, empowering each staff member and provider to work together and reach the highest patient care goals. She expects each of her staff members to create goals and praises them for all of the good work they do. Lisa always puts patients first in everything she does and personally will call patients back who have concerns or issues about their bill, insurance concerns, or if they are looking for a new PCP. Her staff says, "Lisa has it all! The skill set, personality, judgment, motivation, professionalism, effective communication and enthusiasm. She maintains the perfect balance of holding all of us accountable and making us feel cared for."
Sherry Roberge, Chief Radiation Therapist of Radiation Oncology
Sherry has been with Lowell General Hospital for 17 years. She always makes her team feel confident, comfortable and like equal members of the team. She focuses a lot of her time on continued education by holding refreshers and learning sessions. Sherry encourages her team to find ways to improve patient care, such as adding peaceful music in treatment rooms, to make their visit as pleasant as can be. She also created an easy and efficient patient safety checklist for her staff to help build teamwork, enforce discipline, and make sure there is a positive workflow. Her staff says, "She supports everyone on her team 100%. We know we can go to her with any issue and she will always have a supportive and helpful solution. It is nice to know Sherry has our backs."
Sarah Sanderson, Supervisor of Hematology
Sarah has been with Lowell General Hospital for over three years. She is intelligent, kind, and fair to all of her staff members. Her can-do attitude has led to new policies and procedures her staff now follows. She encourages her staff to learn new techniques and supports them in any way she can. Her clear leadership and positive attitude makes work enjoyable and fun for staff. Sarah has high expectations and standards, but constantly takes the time to explain things and give constructive criticism to help her staff see the different way to do things. Her staff says, "When working with and for someone like Sarah, it's easy to have a strong work ethic. She has a gift always seeing the big picture and all sides of a situation. She will jump on the bench alongside us when she feels it is necessary. We feel very empowered by Sarah to not be afraid to take on new tasks. She makes us feel important and valuable to the team."
Mark Vallante, Clinical Manager of Respiratory Therapy
Mark has been with Lowell General Hospital for 28 years. He is a fair, honest and direct leader to his team, and is totally committed to doing the right thing for his staff and patients. Mark brought to the department a high level of professionalism that has surpassed expectations, creating a higher level of camaraderie than ever before. He always makes sure his staff is a part of the decision-making process and takes their accountability seriously. He always makes it a point to keep staff informed by discussing what is happening around the organization as well as budgetary and charge issues related to the department. Mark's staff says, "We know we are supported and if we ever need an extra set of hands he steps right up and helps out. Mark expects the best from us and we appreciate him."