April is National Donate Life Month
Lowell General Hospital Celebrates National Donate Life Month – A Time to Honor Those Touched by Donation and Transplantation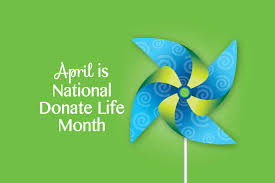 Please join Lowell General Hospital in the celebration of National Donate Life Month this April. The month-long celebration showcases various perspectives of those touched by donation and transplantation.  Every year since 2002, April has been filled with stories to spread the lifesaving message of donation in order to motivate people to register as organ, eye and tissue donors. You can become a donor by registering at www.RegisterMe.org. 
In 2016 Lowell General Hospital had a total of 6 organ and 32 tissue donors. On average, 1 organ donor can help save 8 lives; 1 tissue donor can help save 50 lives. The generosity of these donors restored health in the grateful recipients of lifesaving transplants. Lowell General Hospital is proud to be a Donate Life organization. 
Approximately half of the U.S. adult population is registered as donors. Still, the number of people in need of transplants continues to outpace the number of donor organs. On average, 22 people die each day because the organs they need are not donated in time. Registering your decision to become a donor is the most effective way to ensure you can save lives through donation and serves as sign of hope to those who continue to wait.
To register as a donor or for more information about how to get involved, please visit www.DonateLifeNewEngland.org.