A Gift of Art and Inspiration Comes to Lowell General's Cancer Center
Chelmsford's Kevin Campbell and family commission mural to honor the memory of their loved one and her caregivers
On June 8, 2009, the installation of a 15-paneled mural was completed with a dedication ceremony at the Cancer Center at Lowell General Hospital. The commissioned piece of inspirational artwork was a means to honor the life of a courageous woman and cancer patient, Joanne Campbell of Chelmsford, as well as the many caregivers at the Cancer Center and the patients who pass through the doors of the oncology unit every day.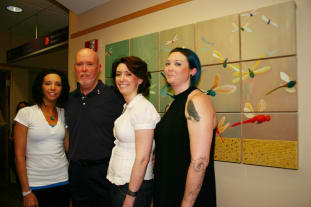 The one-of-a-kind painting commissioned by Kevin Campbell depicts a flurry of colorful dragonflies migrating across a horizon of inspirational messages celebrating life and love. Dragonflies were a favorite part of nature for Joanne and each painted body bears an inscription of a word chosen by her caregivers, family and friends that describes her personality. Words like "hope," "honor," "family," "unconditional love," and "angel" truly give insight into Joanne as a person. The landscape of glittering earth contains a poem using the phrases, thoughts and wishes of those who cared for her. Together these special images and words provide encouragement for others as they reflect.
This incredibly meaningful creation of imagery was exactly what Kevin, his family and those at Lowell General Hospital found most appropriate for the application of funds that the Campbell's wanted to make - the money that was intended for a trip that his wife Joanne and he planned to take after their oldest daughter's wedding. Joanne sadly passed away just days before this trip and the wedding. The donation of a piece of art was a way to both celebrate her life and give courage and faith to others on their own journeys.

Claudia Rupp, Director of Oncology Services at Lowell General Hospital believes that the physical environment promotes healing when a patient comes for cancer treatment at the award-winning community cancer center. "The surroundings and artwork can provide patients and their family members comfort and instill a peacefulness that helps to relax and strengthen." From the artistic water fountain in the entrance, to the words "Care" "Trust" "Courage" and "Hope" that speak to all who enter, the Cancer Center is about inspiring those who come through the doors.
It is this combination of art, words and life that prompted Kevin to enlist the help of Illinois artist and founder of the Trillium Project, Suzanne Keith Loechl. Each of her artistic creations is intended to promote healing for those facing difficult life journeys through both art and words. As the artist explains, "Words have power. Sometimes the act of writing something down gives a thought, a prayer or a grievance life, power and meaning. For many, written words offer comfort, validation or a sense of connectedness."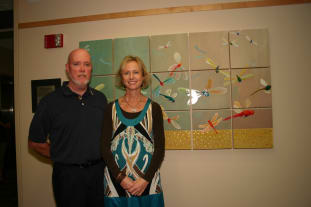 Joanne's breast cancer was far advanced, already affecting her liver and eventually her brain when it was originally detected. "The treatment she endured was to extend her life as long as possible; to be with her family and share in as many milestones and moments as possible," explains Kevin. During the two years of treatment, her commitment to living and to continuing on impacted her family, friends, care team and even fellow patients.

Today, as patients are greeted by their caregivers in the waiting area outside the infusion unit of the Cancer Center at Lowell General, they walk together past the art that remembers Joanne and reminds all of the courage and life they hold within themselves.