Take Your Medications for a Checkup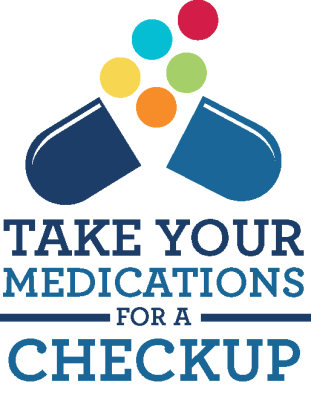 Take Your Medications for a Checkup is a new initiative of Lowell General Hospital. Take Your Medications for a Checkup aims to educate our community on the importance of accurately listing a person's home medications and providing an easy to use and read form to do this. Let's all use our Take Your Medications for a Checkup form and understand the importance of an accurate home medication list for all.
Download Take Your Medications for a Checkup form in English, Portuguese or Spanish

Help with the following sections
It is recommended that you fill in this sheet in pencil so that you can update. Always keep this form with you. We have created this form so it can be folded easily to fit in your purse or wallet. Take this form with you to all doctor visits, all medical testing (lab, x-ray, MRI, CT, etc.) pre-assessment visits for admission or surgery, and all hospital visits. To complete the form, first fill out the top right section with your name address, birth date, blood type and height and weight.
Medical Contacts
This is an important section for you to put your primary pharmacy and phone number and your physicians. You may have more physicians than space allows. You may want to consider an additional sheet of paper with the remaining physicians names and phone numbers. There is also a space for your emergency contact in this section.
Medical Conditions
In this section please fill in the boxes for any of your medical conditions and use the "other" line to list additional medical conditions.
Vaccinations
If you know the date of the last vaccination for these immunizations please list the dates here.
Important Healthcare Documents
This is an area on your sheet where you can just fill in the box that you do have a healthcare proxy or other documents in place.
Health Insurance Plans
This area allows you to put your plan name and policy number-we do not recommend listing your policy number if it is your social security number.
Allergies, Side Effects or Reactions
This is an important section as it is very critical information if you are seeking medical attention. If you do not remember the exact date of the event please continue to list the information anyway.
Over the Counter Medications and other supplements
In this section please make sure to list any medications that you use that are not prescription drugs, this should include medications and herbal supplements, vitamins etc.
My Medication List
It is very important that you keep this section current. Please feel free to ask your health care provider to assist you in filling in this information. Your pharmacist may be able to assist you as well. If you do not know the answer to any of the columns, it is important that you ask your healthcare provider. Update this form with all medication changes. If a medication is stopped, draw a line through it and record the date it was stopped. In the Notes/Changes column, record things like the name of the doctor who told you to take this medication. You may also add the reason for taking the medication (high blood pressure, nerves, sleep, etc.) Always keep this form with you. Tell your family, friends and neighbors to complete one of these forms as well and let them know where you keep yours in case of an emergency. When you are discharged from a hospital, update your form. When you return to your primary care physician or see a specialist, take your updated form with you. Always keep this form with you. This will keep everyone up-to-date on your medications.