Overview
The Tdap vaccine protects adolescents and adults from tetanus, diphtheria and pertussis (also known as whooping cough).
It is especially important to be vaccinated if you have close contact with a baby younger than 12 months, including grandparents, babysitters, spouses or significant others, aunts and uncles as well as friends of the family.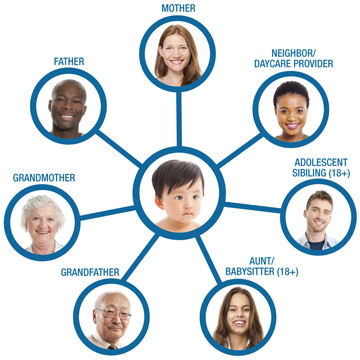 Why should you be vaccinated:
Infants are most at-risk for severe and life-threatening complications from pertussis as they are too young to be vaccinated. By being vaccinated, you are helping to protect them. Women who are pregnant should get a new dose of Tdap during every pregnancy to protect their newborns.
Since 2004, an average of 3,055 infant pertussis cases and more than 19 deaths have been reported annually. The majority of the cases, hospitalizations and deaths occur in infants under two months old, who are too young to be vaccinated.
What does the vaccine protect against:
This vaccine is designed to protect adults and adolescents from pertussis, a very contagious disease. Pertussis can result in months of coughing, cracked ribs from severe coughing spells, pneumonia and other complications. While you may have been vaccinated against this disease as a child, routinely one dose is given at age 11 or 12, immunity against the disease decreases over time. If you did not get the Tdap vaccine at that age, you should be vaccinated as soon as possible.
Additional related information
Registration
Clinics are held bimonthly for adults. Women greater than 20 weeks pregnant will need written request from their doctor. This is a drop-in clinic. No registration required.
Room
Hanchett Auditorium on the ground floor in the Mansfield Pavilion Building
Weather Policy
If Lowell public schools are closed due to weather, classes/events held by the Center for Community Health and Wellness will also be cancelled. Visit the Lowell General Hospital website www.lowellgeneral.org and look for an alert banner. Cancellations and/or delays due to weather conditions visit 7 NEWS at whdh.com.