Lee Silverman Voice Treatment (LSVT® LOUD)
Speech Therapy program helps Parkinson's disease patients regain their voice
The statistics are startling: as many as 90% of patients with Parkinson's disease (PD) have a voice disorder that impairs their ability to communicate, but only 3-5% receive any type of speech therapy.
Now, thanks to a program called LSVT® (Lee Silverman Voice Treatment) LOUD available at Lowell General Hospital, Merrimack Valley residents with PD and other neurological disorders such as multiple sclerosis, cerebellar ataxia, or those recovering from a stroke, have a speech treatment option that's been proven to reduce or eliminate voice problems and improve the ability to communicate.These problems include hypophonia (an abnormally weak voice) and hypoprosodia (reduced pitch inflection, or speaking in a monotone), which make it difficult to be understood.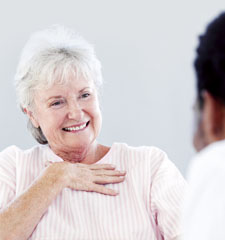 "Seeking therapy early in the disease process is so important because patients stop talking if they can't be heard," says Kathleen Bemiss, MS, CCC, speech language pathology supervisor. "Having a disease like PD can be isolating enough without being unable to communicate."
LSVT® LOUD is a four-week program consisting of four, one-hour sessions per week. "There's a pretty intensive homework component, too, that helps carry over the therapy into everyday life," Bemiss notes. The treatment is provided by one of four speech-language pathologists at Lowell General who are certified in the LSVT® LOUD program, and it's covered by insurance (a physician referral is required).
Considered the gold standard for treating speech disorders in people with PD, LSVT® LOUD has demonstrated that it improves vocal loudness and speech intelligibility, enhances facial expression, and can be used to address problems with swallowing and articulation.
"More than 90% of patients maintain improvement for up to 24 months," Bemiss adds. "The patients we've treated so far are incredibly happy, and so are their families who can hear and understand their loved one again."
For more information, contact the Speech Pathology Department at 978-937-6403.