Seek early treatment
Shingles (herpes zoster) is a painful, blistering skin rash caused by the varicella-zoster virus, the same virus that causes chickenpox. After you get chickenpox, the virus becomes inactive and roosts in nerves near the spinal cord and brain. Years later, often if your immune system is weakened by medications, disease or stress, the virus can reactivate as shingles. While it can occur anywhere on the body, it frequently appears as a band of blisters that wraps around one side of the torso.
Christine, an otherwise healthy, middle-aged working mother of two, says she was "brought to the floor" by shingles and post-herpetic neuralgia – ongoing pain that occurs when nerves have been damaged after an outbreak of shingles. Christine's shingles began as a few raised bumps on her forehead that burned, and quickly grew into searing, painful welts. She wisely saw her primary care physician right away.
"He diagnosed me in seconds with classic shingles," she relates, noting that the virus had lain dormant in her cervical nerve and attacked the right side of her head and face. She was immediately prescribed anti-viral medication, the first line of defense against shingles, to help reduce pain and complications and shorten the course of the disease. These medications should be started within 24 hours of feeling pain or burning, ideally before the blisters appear – underscoring the importance of seeking prompt medical attention when shingles symptoms first occur.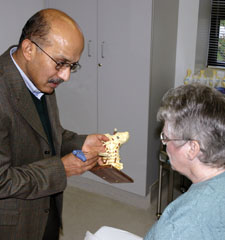 Despite the anti-viral medication, however, Christine developed post-herpetic neuralgia, and her physician referred her to G.K. Dwarakanath, MD, director of the Pain Management Center at Lowell General and an expert in shingles.
"The incidence of post-herpetic neuralgia in shingles patients is 50 percent, but with early intervention it's only five to ten percent," he says. "That's why I want to see patients as soon as possible after a shingles diagnosis, before there is nerve damage."
The early intervention to which he refers includes an epidural steroid injection that reduces inflammation, relieves pain, and helps prevent nerve damage and the related long-term pain that can result. He may also prescribe tricyclic antidepressants that help to modulate shingles pain, as well as other analgesics (pain medications).
"Managing the nerve pain was vital, but the peace of mind that I had someone who understood this illness and the ways to treat it made a big difference," Christine says.
Dr. Dwarakanath also urges eligible adults – those over age 60 – to get the shingles vaccine to help prevent an occurrence in the first place. This is the age group most at risk of developing shingles as well as post-herpetic neuralgia. If the vaccine is administered in your doctor's office, it's generally covered by insurance (individual coverage may vary).
"Get the right care for your condition," Christine stresses. "Don't think you should just suffer through it. There are options for pain, and healing will happen."
For more information, contact Lowell General's Pain Management Center at 978-937-6460.