What is safe sleep?
Sudden infant death syndrome (SIDS) is the leading cause of death among infants between 1 month and 1 year of age. This is what you can do to help your baby sleep safely and to reduce your baby's risk of SIDS.
To create a safe sleep environment:
Always place a baby on his or her back to sleep, for naps and at night, to reduce the risk of SIDS.
Use a firm sleep surface, covered by a fitted sheet.
Your baby should not sleep in an adult bed, on a couch or on a chair alone, with you, or with anyone else.
Keep your baby's sleep area in the same room where you sleep. Room sharing not bed sharing.
Always place the baby in a safety-approved crib, bassinet, portable crib for sleep.
Sitting devices like bouncy seats, swings, infant carriers or strollers should not be used for routine sleep.
Keep soft objects such as pillows and blankets, toys and bumpers out of your baby's sleep area.
Wedges and positioners should not be used.
Do not smoke during pregnancy or allow smoking around your baby.
Do not let your baby get too hot during sleep.
Breastfeed your baby to reduce the risk of SIDS.
Give your baby a dry pacifier that is not attached to a string for naps and at night to reduce the risk of SIDS.
Follow health care provider guidance on your baby's vaccines and regular heath checkups.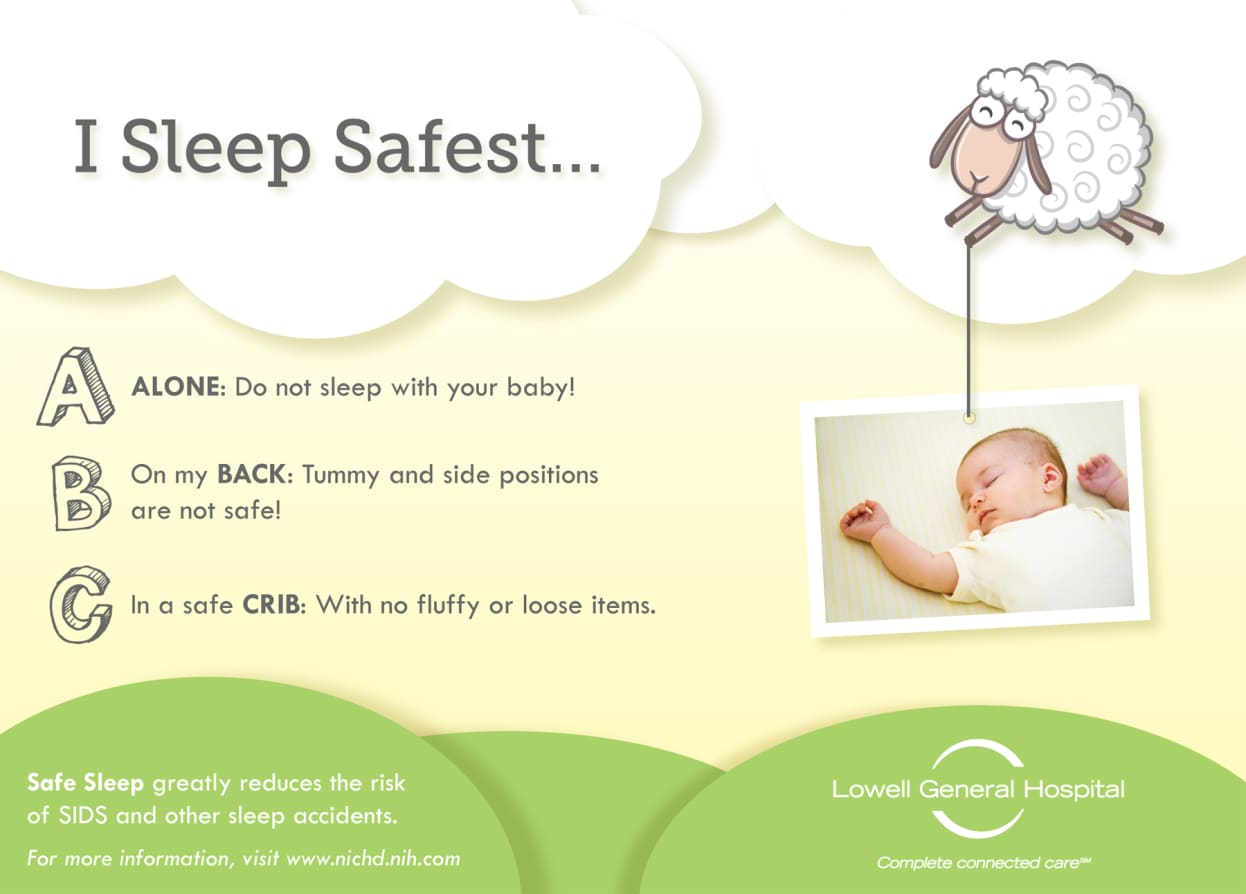 Each year, approximately 3,500 infants die from sleep-related accidents that cause suffocation, strangulation or undetermined causes. No hospital in the state is doing more to lower that number than Lowell General Hospital. The team on the Mother and Infant Unit (MIU) is the first in the state to be recognized as a Gold Certified Safe Sleep Hospital. The Cribs for Kids® National Safe Sleep Hospital Certification program recognizes hospitals that show a commitment to reducing infant sleep-related deaths and promote best safe sleep practices through infant sleep safety education.
For additional information and education on safe sleep please visit the Cribs for Kids® website.