The Birthplace at Lowell General Hospital
Having a baby may be the most important decision you'll ever make. Deciding where to have your baby may be the second most important. You need a hospital that is attentive to your individual choices for your baby's birth, a hospital where doctors and nurses support your family in developing a birthing plan to create your own special childbirth experience. You'll find that — and a whole lot more — at The Birthplace at Lowell General Hospital.
Family-centered Comfort and Care for New Moms
The Labor and Delivery Unit located on the top floor of the Dahod Building at Lowell General Hospital's main campus was built in 2012 to provide laboring moms a soothing, gracious environment.
Features include:
Labor and Delivery Room

Four new early labor rooms offer spacious soothing areas for laboring moms
Whirlpool tub room with spa-like atmosphere to soothe laboring moms
Triage Area/Outpatient Suite — for specialists to conduct outpatient testing, saving patient wait times and travel to other locations
State-of-the art infant security system
Increased privacy with transportation via a private elevator (separate from staff/visitor elevators) will be available to transport mom and baby to the Mother/Infant Unit
Two separate large flat screen televisions for mom and family members to enjoy
Designated clinical space and family space
Spacious bathrooms with individual showers and spa-like décor.
Lactation Support — Inpatient Lactation Consultants
All professional staff on the Mother/Infant unit are able to provide support for our breastfeeding moms. Because we understand that sometimes there may be additional needs, a Certified Lactation Consultant is available to visit privately with new moms in the Mother/Infant Unit. Lactation consultants offer breastfeeding assistance and answer questions about breastfeeding before mom and baby head home.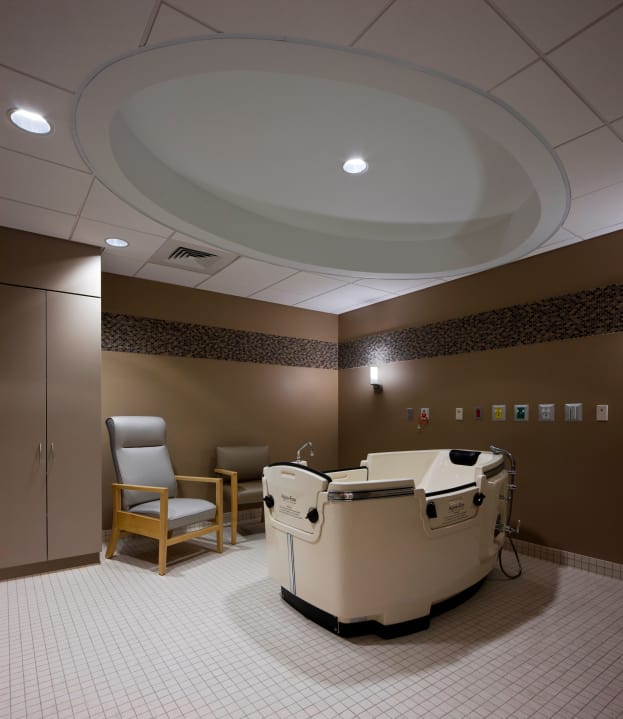 Certified lactation consultants are available 7 days a week. They provide lactation support to all nursing mothers whose infant were born prematurely, as well as for mothers of full term infants who request support. The lactation consultants also provide outpatient follow up and support in the hospital setting after the infants are discharged home.
We understand that breastfeeding is a learned art, and a new mother needs knowledge and practical assistance to help her have a positive breastfeeding experience. The breastfeeding support programs at Lowell General Hospital are designed to offer education, counseling and support so that breastfeeding can be a rewarding experience for both mother and baby.
Telephone Support
After your discharge from Lowell General Hospital, you may have additional concerns about breastfeeding. We welcome you to call a lactation consultant at 978-937-6334 with your questions. If you are calling regarding an urgent matter or are concerned regarding your babies health, please contact your pediatrician.
Benefits of Breastfeeding
According to the American Academy of Pediatrics, breastfeeding ensures the best possible health as well as the best developmental and psychosocial outcomes for the infant. Recent studies show that babies are less likely to develop ear infections, respiratory illnesses and diarrhea when breastfed exclusively for six months. Breastfed babies may be less likely to be obese in childhood.
Some studies suggest decreased rates of:
Sudden infant death syndrome in the first year of life
Incidence of insulin-dependent (type 1) and non-insulin-dependent (type 2) diabetes mellitus, lymphoma, leukemia, and Hodgkin disease, hypercholesterolemia and asthma
Breastfeeding has also been associated with slightly enhanced performance on tests of cognitive development, and if done during a painful procedure such as a heel-stick for newborn screening provides a soothing calming effect on infants
Maternal Health Benefits
Earlier return to pre-pregnancy weight
Decreased risk of breast cancer
Decreased risk of ovarian cancer
Possibly decreased risk of hip fractures and osteoporosis in the postmenopausal period


Maternity & Reproductive Health
Prenatal Care — Maternal Fetal Medicine Program
Fortunately, most pregnancies go smoothly from conception to delivery. However, for some women, medical problems prior to pregnancy, such as high blood pressure or diabetes, or conditions that develop during pregnancy, such as gestational diabetes, placenta previa, premature labor, or multiple births, make them at higher risk for complications.
The experienced Maternal Fetal Medicine team at Lowell General Hospital, in collaboration Tufts Medical Center and the Floating Hospital for Children at Tufts Medical Center provides outpatient and inpatient counseling and diagnostic services. The program includes outpatient prenatal diagnostic ultrasound and procedures such as Nuchal Translucency Screening, amniocentesis, as well as genetic counseling and counseling about issues related to high-risk pregnancies.
Level IIB Special Care Nursery
Affiliated with the Regional Center for Maternal and Pediatric Care in partnership with Floating Hospital for Children at Tufts Medical Center, the Level IIB Special Care Nursery at Lowell General Hospital provides comprehensive, multidisciplinary care for infants born prematurely, infants with feeding difficulties, and those with other medical issues requiring close monitoring and assessment.
The 10-bed nursery is staffed with board-certified neonatologists (physicians specializing in the care of premature and sick infants) around the clock from our partnership with the Floating Hospital for Children at Tufts Medical Center, as well as pediatric physicians and neonatal nurses. These clinicians are highly skilled at resuscitating and stabilizing critically ill infants, and preparing them for transfer to a Level III neonatal intensive care nursery if necessary. Once stabilized, such infants are transferred back to the Special Care Nursery for ongoing care closer to home.
Babies (and their parents) First In Everything We Do
All babies in the Special Care Nursery are connected to monitors. Some also require intravenous therapy, oxygen, and other medical equipment. Although such a "high tech" environment may seem overwhelming to parents, our goal is to involve parents as much as possible in the care of their infants, and to help promote bonding.
With a strong focus on family-centered care, our dedicated team of physicians, nurses, lactation consultants, social workers, dietitians, and physical therapists work collaboratively with parents to educate and support them. We also recognize and respect your need to spend private time with your infant. Our state-of-the-art monitoring system allows parents to spend alone time with their infants in private parenting rooms, while providing continuous monitoring of their infant to the staff in the nursery.