On Monday, May 8, 2017 seventy members and board of the Lowell General Hospital Auxiliary, hospital administration and guests attended the Annual Meeting and luncheon in the library at Stonehedge Hotel and Spa in Tyngsboro. President Paula Leavitt welcomed everyone and thanked the Auxiliary Board and Auxilians for their support and dedication this year. Special thanks and flowers were given to Amy Werner, Director of Philanthropy and Kelly Will, Philanthropy Service Manager for their help throughout the year. Paula also thanked Dan Maguire for providing music for the event.
Board members Pauline Lambert, Terry O'Connor and Mary Bennett presented a check to Meg Lemire-Berthel and Claudia Antolini for our Cancer Center in the amount of $5,942.50. The money was raised from the Daffodils and Desserts event. A matching pledge of $5,000 was also given to TeamWalk for CancerCare.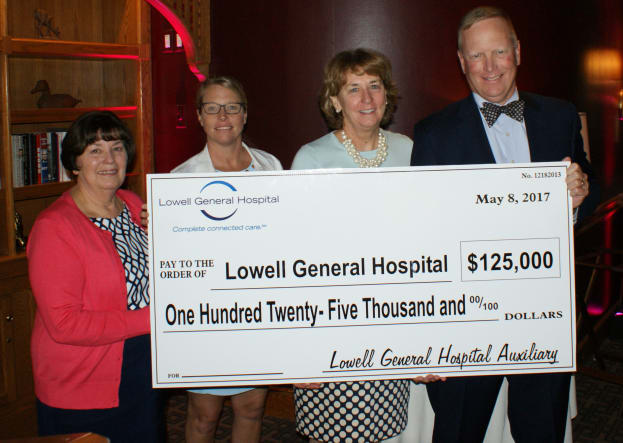 The Auxiliary has committed to a four-year pledge totaling $500,000 to the renovation of the ICU Family Corridor and construction of a Healing Garden. Paula Leavitt, President, Trish O'Donnell, First Vice President, and Susan Dionne, Second Vice President, presented the second installment check of $125,000 to Jody White, CEO and President of Circle Health and Lowell General Hospital.
The Annual Meeting was adjourned and the guests enjoyed a fashion show provided by J. McLaughlin of Andover. The show was emceed by Aricia Symes Elmer of Shift your Style also in Andover. Our models this year were Trish O'Donnell, Pam White, Sue Zacharer, Deb Lemos, Molly Bennett, Carrie Meikle, Kathy Ryder, and Julia Shen. Thank you to the Lowell General Auxiliary members for their commitment to putting patients first and for their generous support.