Save-the-date: May 8, 2017
On Monday, May 9, 2016, the Lowell General Hospital Auxiliary held its annual meeting at the main campus in the Clark Auditorium. Over 70 Auxilians and guests attended the business meeting in addition to enjoying a luncheon provided by Sodexo, music by Jon Mansfield and a fashion show. Members of the Auxiliary and Lowell General staff modeled fashions by Donna Thoene, Gift Shop Manager, and the Lowell General Hospital Gift Shop.
To kick off the meeting, a brand new Auxiliary Lifetime Membership plaque was dedicated by CEO Norm Deschene and President Jody White. The plaque, a tree containing Auxiliary members' names on it, is currently on display outside the Clark Auditorium at the main campus.
Pauline Lambert, Terry O'Connor, and Mary Bennett, co-chairs of Daffodils and Desserts, then presented Meg Lemire and Claudia Antolini of the Cancer Center with the proceeds of the event. The annual flower and bake sale fundraiser raised over $6,000 for the Cancer Center to purchase quilt covers and holiday meals for cancer patients. In addition to this, the Auxiliary matched a donation of $5,000 to TeamWalk for Cancer Care.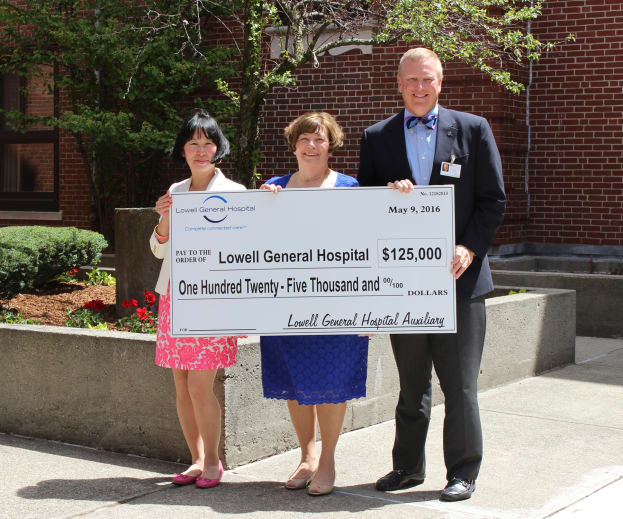 This year's meeting marked the end of Carrie Meikle's term as Auxiliary president and Paula Leavitt was announced as the new president of the board. Both Carrie and Paula proceeded in presenting President Jody White with a check for $125,000. As part of the Auxiliary's long history of seeking out areas of greatest need at Lowell General Hospital, the group pledged this generous donation to benefit the ICU Expansion Project and Healing Garden. 
Since its inception in 1951, the Auxiliary has provided its members, the hospital and the community-at-large with the opportunities to enjoy social events, such as A Winter Affair and Taste of the Town, purchase unique items and engage in educational healthcare programs while providing important financial support for the hospital.
Annual contributions made by the Lowell General Hospital Auxiliary are either designated for a special purpose or used by the hospital as most needed.