Special Care Nursery
Amanda's story: Birthplace Keeps Families Together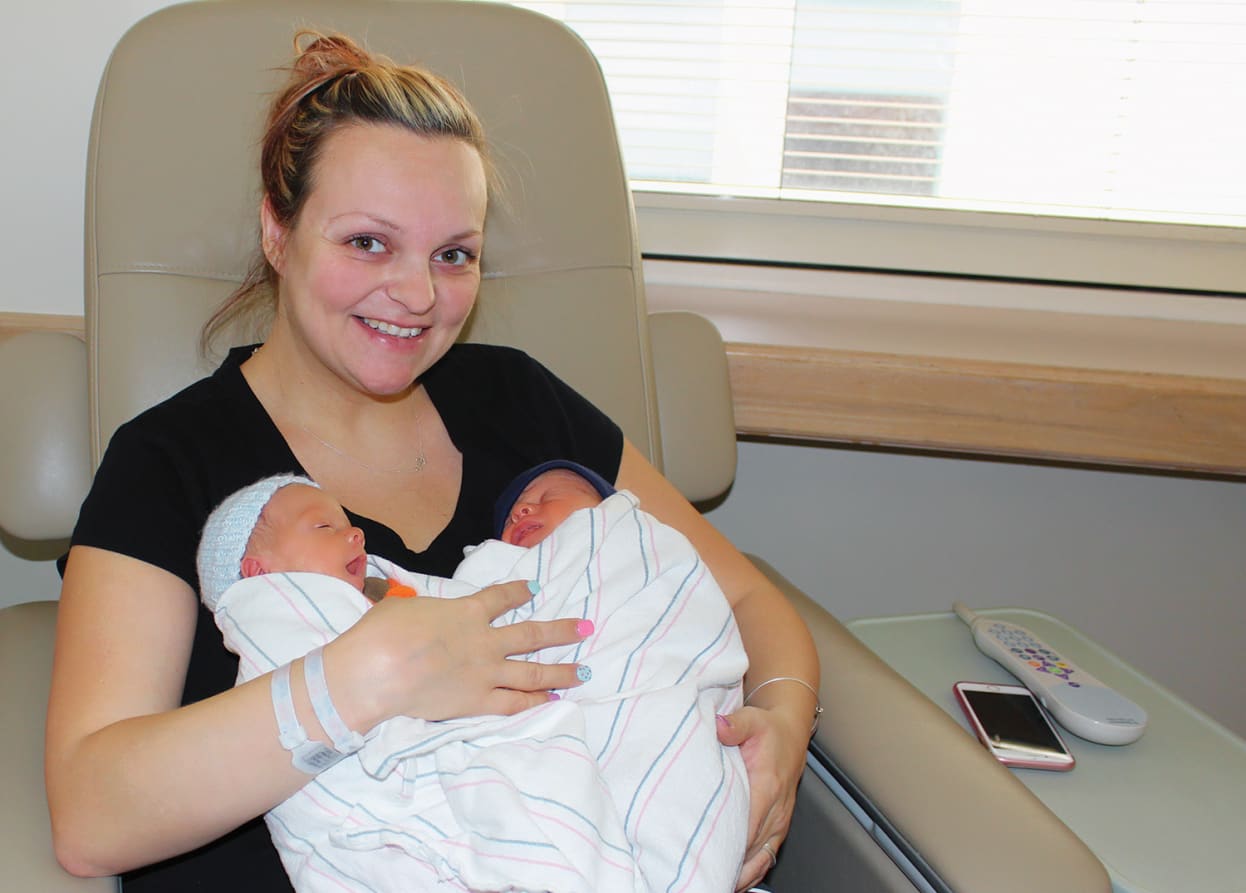 As a mother of three very active boys, and stepmother to two more, Amanda Proulx of Ayer considers herself a pretty experienced parent who has learned to roll with the punches. When she experienced some unexpected bleeding early on in her fourth pregnancy, she was relieved when an ultrasound showed everything was normal.
Well, relatively normal – the ultrasound screen revealed not one but two heartbeats. Slightly overwhelmed at the thought of twins, Proulx knew she was in good hands with the providers at Lowell General Hospital WomanHealth, an ob-gyn practice with offices in North Chelmsford and Westford.
With the higher risk associated with multiple births, Proulx drew comfort knowing she would deliver at the Birthplace at Lowell General Hospital. With 24/7 care offered through the hospital's partnership with the Floating Hospital for Children at Tufts Medical Center, she knew Boston-level specialty care was available close to home.
When she found herself "just not feeling right" one day, she rushed to the hospital to make sure she wasn't going into pre-term labor. Sure enough, she had started contractions. Since one of the twins was in the breech (feet-first) position, a C-section was performed.
Liam and Logan were born March 11, 2016, at 34 weeks and 5 days. Liam weighed in at 5 lbs, but Logan was a very tiny 3 lbs. As late pre-term infants, both needed to stay in the hospital's Special Care Nursery to ensure they were able to gain weight and maintain their body temperatures.
The Level IIB Special Care Nursery (SCN) provides comprehensive, multidisciplinary care for infants born prematurely, infants with feeding difficulties, and those with other medical issues requiring close monitoring and assessment. It is staffed with board-certified neonatologists (physicians specializing in the care of premature and sick infants) in partnership with Floating Hospital for Children at Tufts Medical Center, as well as pediatric physicians and neonatal nurses.
"It was pretty scary, particularly for Logan as he was so tiny," says Proulx. "Fortunately he didn't have any other complications, and they were able to supplement his feeding and monitor his weight to make sure he was thriving."
All babies in the Special Care Nursery are connected to monitors, and some also require intravenous therapy, oxygen, and other medical equipment. With a strong focus on family-centered care, the dedicated team of physicians, nurses, lactation consultants, social workers, dietitians, and physical therapists work collaboratively with parents to educate and support them.
The goal is to involve parents as much as possible in the care of their infants, and to help promote bonding," says Dr. Mario Cordova, neonatologist with the Floating Hospital for Children at Tufts Medical Center. "Even though the twins needed extra nutrition to supplement their weight and special equipment to maintain their body temperatures, Mrs. Proulx was able to continue breastfeeding both of them – it was really important to her."
With a higher weight, Liam was discharged from the SCN earlier than Logan. Arrangements were made for Proulx to "room in", where she could stay in a private room with Liam while Logan was cared for in the SCN.
Proulx doesn't know how she would have managed without all the special accommodations and support.
"The whole nursing staff became like your family. I felt like I asked them 100 questions every day, and there was never any doubt that my twins were getting the best care possible. It's always what's in the best interest of the babies."