Renowned Surgical Program Provides Life-Changing Healing
Read Jesse Luongo Maiuri's story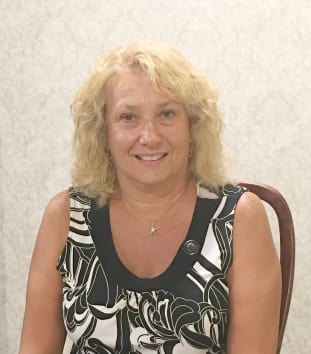 For most women, a hysterectomy requires several days in the hospital and a long, painful recovery. However, Tewksbury resident Jesse Luongo Maiuri not only went home the same day as her surgery, but was pain-free and comfortably back to work just four weeks later.
Maiuri was suffering from a condition known as uterine fibroids, which are typically small, noncancerous growths that occur in as many as 50 percent of women. But in some cases, these growths can become large enough to distort the uterus and cause symptoms like bleeding, pain and cramping.
One option to treat the conditions is a hysterectomy, the second-most common surgery among women in the U.S. But rather than go through the trauma of a large, open incision surgery that would put her out of work for six weeks, she first tried hormonal therapy, which in her case caused clots that had life-threatening side effects.
Once she recovered, surgery was not a short-term option. Then she found Dr. Nonnie-Marie Estella, Director of Minimally Invasive Gynecology at Lowell General Hospital. Dr. Estella had a long-term plan.
"I asked Jesse to make an investment in time," says Dr. Estella. By giving her medication that temporarily put her into menopause over a six-month period, Dr. Estella was able to shrink Maiuri's fibroids so she could perform a minimally-invasive hysterectomy in which several very small incisions are used to perform the surgery.
Dr. Estella has performed hundreds of such procedures, and is part of one of the most experienced surgical teams in robotic-assisted surgery in New England. Lowell General surgeons are able to use minimally invasive options in several different specialties. Because Lowell General meets the highest standards of quality and safety in robotics, the hospital has been designated a Center of Excellence in both Robotic Surgery and Minimally Invasive Gynecology by the Surgical Review Corporation.
"I cannot say enough about Lowell General," says Maiuri. "The doctors and staff were great and I ended up transferring all of my doctors over here."
Lowell General surgeons perform these surgeries using the da Vinci Si Robotic Surgical System®, a state-of-the-art platform that allows for unmatched precision. With this technology, surgeons have more control over their instruments, resulting in less blood loss, less risk of infection, a lower complication rate and a faster recovery.
"Women who have had the laparoscopic hysterectomy still need the same amount of time for tissue to heal as with an open incision surgery," Dr. Estella says. "We aren't changing how the tissue heals, but we are changing how the person feels during that healing period. She is starting out feeling much stronger, and often does not need the same level of narcotics for pain control."
After her successful surgery, Maiuri, an administrative assistant at a Stoneham nursing and rehabilitation center, felt well enough after four weeks to also return to her second job as a sales associate at a retail store. "I didn't end up taking any pain pills at all," says Maiuri. "Every week after the surgery my energy level got better, and I was able to go back to work after four weeks." 
Dr. Estella says that most hysterectomies are still performed with a large open incision. Lowell General Hospital is ahead of the curve with more than 90 percent performed using minimally invasive techniques.
"I cannot say enough about Lowell General," says Maiuri. "The doctors and staff were great and I ended up transferring all of my doctors over here."