For Chelmsford Woman, Diabetes Scare Ends with Silver Lining
Clare Gunther from North Chelmsford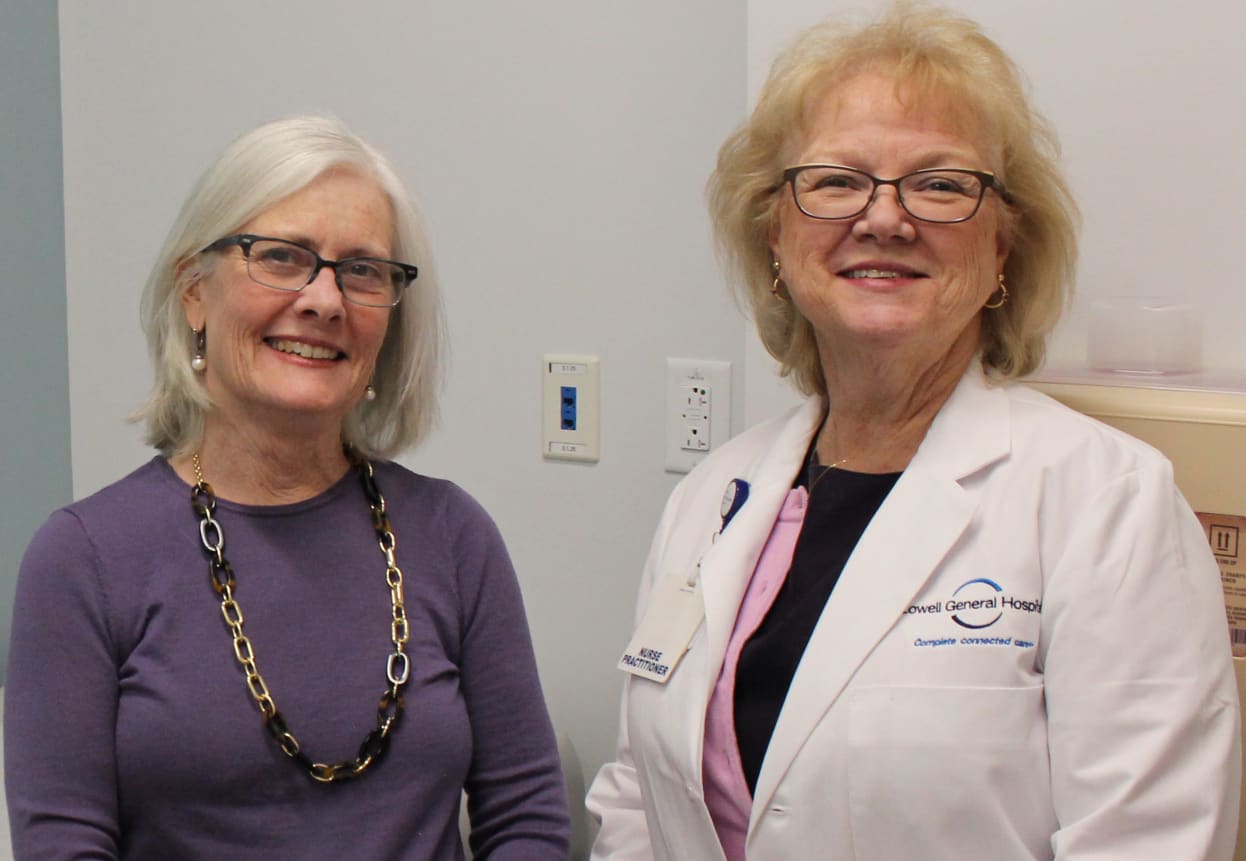 As a Type 1 diabetic for more than 30 years, Clare Gunther is very familiar with the daily routine of monitoring her blood sugar levels.
"I don't go for a walk without testing my blood sugar," says Gunther, of North Chelmsford. "I always have carbs with me just in case it gets low. I keep a juice box in my purse because of diabetes. You have to because diabetes is with you all the time."
However, when she got a bad stomach virus last fall, her usual dose of insulin delivered through her automated pump that helps her body process sugars wasn't effective. Unsure what to do and not thinking clearly due to her highly elevated blood sugar levels, she went to bed and her condition worsened.
By the morning, she had developed ketoacidosis, a potentially fatal condition that results from acids forming in the blood stream due to elevated blood sugars. EMTs saved her life with intravenous electrolytes, and then took her to Lowell General Hospital, where she spent three days in the Intensive Care Unit (ICU).
But from this near tragedy came what Gunther considers "a gift" in the form of Judy Pentedemos, FNP, Clinical Manager of the new Diabetes and Endocrine Center at Circle Health Dracut.
Pentedemos was first called to the ICU to help Gunther get her blood sugar levels back in balance. For two days, she had Gunther calling her every three hours, around the clock, to report her blood sugar levels, then guiding her to adjust her insulin intake and diet accordingly.
By coincidence, Gunther's long-time endocrinologist had recently left his practice and the day of her trip to the ICU, she was scheduled to meet with a new endocrinologist in Boston. But after meeting Pentedemos, she learned that expert diabetes management services and experienced endocrinologists are available within the new Circle Health Dracut facility. 
"It was the resource that I lacked," Gunther says. "To be able to go up the street and get such quality care means the world to me."
The centralized services offer a new level of Complete connected care for individuals with diabetes in the region.
"We have extensive knowledge collectively among all of us," Pentedemos says. "If anything comes up, we have each other as an immediate resource."
Pentedemos says her primary focus is to help patients create a routine to manage their diabetes on a day-to-day basis. She has 25 years of experience, and is backed by a team of dietitians, diabetes educators, and board certified endocrinologists Dr. Miguel Ariza, Dr. Hannah Matthew, Dr. Anca Staii, and Dr. Hayward Zwerling.
"We customize a diabetes plan to fit your life," she says. "It's about diet, exercise and living a healthy lifestyle."
For Gunther, the level of experience matched with the convenience was exactly what she needed. She cancelled her appointment in Boston and made a new one in Dracut.
"Once I met Judy, I thought, 'I don't need to go to Boston,'" Gunther says. "(Judy) is a savant with insulin pumps, and there is an endocrinologist there if I need one. I'm in really good hands."