Cancer Screening Gives Tewksbury Grandmother a Second Chance
TeamWalk Story: Jennifer O'Loughlin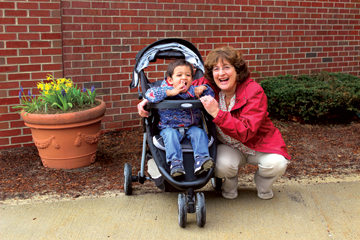 Jennifer O'Loughlin of Tewksbury was not prepared for the devastating new following a colonoscopy that fateful day in February 2003.
After the procedure, Dr. James Reichheld met with her and her husband Paul to tell them that they had found a tumor in her colon.
"He immediately consulted with a surgeon so I could get in for surgery right away. It all happened so fast," said O'Loughlin. "I had the colonoscopy on a Friday and surgery to remove a one-foot section of my colon that following Tuesday."
She still describes the experience as somewhat of a blur — after all, she was only 45, and never had any symptoms with her stomach or digestive system. As far as she knew, nobody else in her family had a history of colon cancer.
She had gone to her primary care physician several months before after noticing a little blood in her stool. Thinking it was probably a hemorrhoid, she decided to err on the side of caution and have it checked out. To this day, she is so grateful her physician was extremely thorough and ordered a colonoscopy, as she was still five years younger than the recommended screening age of 50.
"The colonoscopy found a really aggressive tumor that had spread into walls of my colon. This screening exam saved my life."
After undergoing surgery at Lowell General Hospital, she started a nine-month round of chemotherapy at the hospital's Cancer Center. Chemotherapy can be pretty tough, but she credits the strong support of her husband Paul which helped her get through it.
"A cancer diagnosis is so scary... and while you are really sick you often feel like it's your loved ones that have it even harder. We lived in Dunstable at the time, so it was much easier for Paul to bring me to Lowell General for treatment than going into Boston. Dr. Anamur and the staff at the Cancer Center were so supportive and caring."
O'Loughlin is thankful for the care she received that she gives back by walking in Lowell General Hospital's TeamWalk for CancerCare. She walks with friends and family, some who have also been touched by a cancer, as a way to support others in the community through their journey.
Now, she is a huge advocate for colon cancer screening with a colonoscopy. She says it's important to know the symptoms and get the recommended screening beginning at age 50, and she stresses to go earlier as sometimes symptoms can be missed.
"I'm the one that drives my friends and family members to their colonoscopy appointments," says O'Loughlin. "It's one of those tests that people avoid as they think it's extremely unpleasant or painful, but it's not. The cleansing prep [referring to the liquid to clear the colon] is actually the most uncomfortable part." 
And since she didn't have any symptoms until the tumor had progressed, she stresses the importance of taking preventive measures like eating healthy and keeping up regular exercise.
"My getting colon cancer was just a fluke. My friends always say I must be so angry because I'm the last person this should have happened to. I have always eaten really healthy, not a whole lot of red meat, and kept up regular exercise. 
"I say I'm not angry, but incredibly lucky! I have five wonderful grandchildren, all under 7, and I get to babysit my two-year-old grandson and four-year-old granddaughter every day. Paul and I are looking forward to celebrating our 40th anniversary this December, and we just moved to a new house where we plan to celebrate a bunch of the grandkids' birthdays this spring. It's always loud and chaotic at our house — so full of life — and I wouldn't have it any other way."