Breast Health Navigators provide guidance and support
Kelly McLaughlin from Billerica
Call 978-937-6023 to schedule your mammogram
Kelly McLaughlin, 54, of Billerica has gone through what she can only describe as a "crazy ride" these past few months. When a screening mammogram revealed abnormalities in both breasts in March 2016, McLaughlin was shocked. After all, she has no family history of the disease and nothing was ever detected during her regular physical exams.
When it was recommended she have a biopsy, Kelly was referred to Breast Health Navigator Jodi Thiele. Thiele covered what to expect the day of the biopsy, possible outcomes and post-procedure care. 
"She thoroughly explained every step and was available to answer all my questions," McLaughlin says. "I wasn't nervous at all."
At Lowell General, we believe knowledge is power. That's why we provide the Breast Health Navigator (BHN) program — to ensure patients are armed with all the tools and support they need.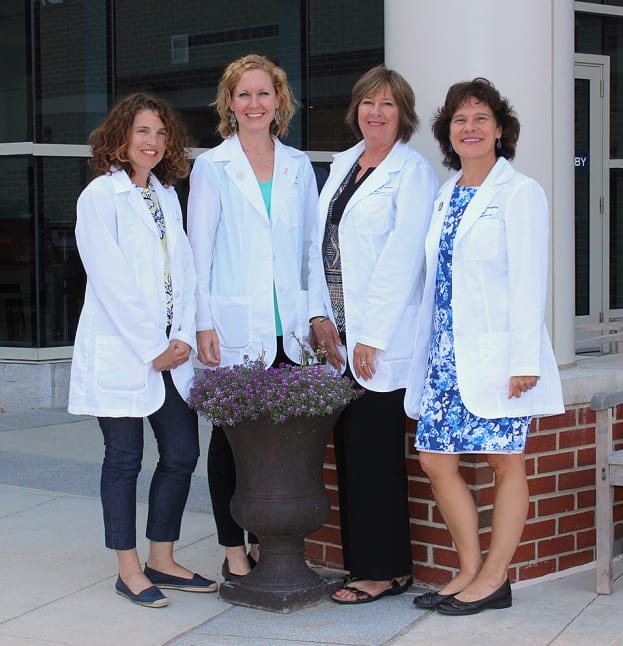 Breast Health Navigators are registered nurses who are certified in Navigation or Oncology. But they don't just lead patients through the care and treatment; they are a voice at the end of the phone, a shoulder to lean on and experts with an arsenal of resources to help alleviate the patient's fear and anxiety.
McLaughlin was diagnosed with ductal carcinoma in-site (DCIS) — a type of breast cancer. When she received the news, she felt as if she'd just been knocked over.
"As Navigators, we know that first hearing the word 'cancer' can be overwhelming," Thiele says. "Patients need a day or two to process and then the questions start. Kelly opted to come in to meet with me after her diagnosis and I reassured her that this was an early stage cancer and we discussed
next steps."
If surgery is required, Breast Health Navigator Susan Skinner often accompanies patients in the operating room, assists them with post-operative care such as symptom management, appropriate exercise and therapy, and addresses post-surgical options such as chemotherapy, radiation and hormonal therapies.
After a lumpectomy in April 2016, McLaughlin began a series of radiation treatments in June. She has just completed her final appointment, and is looking forward to things getting back to normal.
She is so thankful for the BHN Program and the teams that have helped her come out on the other side.
"It all happened so fast, it's still hard to take in sometimes," McLaughlin admits.