Beating the odds and surviving cardiac arrest
It was an ordinary Saturday in October when Bob O'Shaughnessy, a robust and active father of four, and his wife Bridget went out for their daily walk in their Chelmsford neighborhood. Suddenly, however, Bob felt weak.
I sat down on a bench on our walking route but still felt strange," he recalls. "A friend's house was nearby, so I made it there and lay down on their garage floor. Bridget called 911."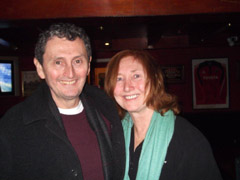 It was the last thing Bob would remember for two weeks. The emergency medical team arrived within minutes, and it was a good thing – because Bob had gone into cardiac arrest. He was rushed to the Emergency Department (ED) at Lowell General Hospital, a harrowing ride during which Bob's heart stopped – and was restarted – twenty times.

It turned out that Bob not only had a heart attack, but the main artery supplying blood to his heart was completely blocked. Upon arrival at Lowell General, Bob was immediately brought to the Heart and Vascular Center's cardiac catheterization lab where interventional cardiologist James B. Waters, MD, FACC, performed an emergency balloon angioplasty to open the blocked artery, restore blood flow, and keep the artery open.

During the procedure, however, Bob's heart stopped again.

"Mr. O'Shaughnessy was suffering from a massive heart attack caused by a ruptured plaque and blood clot in a major coronary artery, and he was critically ill and unstable," explains Dr. Waters.

"When someone has such a lack of oxygen to the brain during resuscitation, we use a specialized technique called therapeutic hypothermia to help protect the brain function and help improve the chances of neurological recovery," Dr. Waters notes.

Forty-eight hours after being admitted to Lowell General, a special intensive care ambulance transferred Bob to a tertiary care center, a hospital with the ability to perform a heart transplant if it was needed. Tufts Medical Center was that place.
Everyone – the ambulance driver, paramedics, nurses, doctors – did the right thing. They never gave up."

For nearly two weeks, Bob remained in a medically-induced coma and a pump helped keep his heart functioning. Remarkably, instead of needing a transplant, Bob emerged from treatment in surprisingly good cardiovascular condition, and was discharged on November 2nd.

"I beat the odds," he says, noting that he didn't even need to have a defibrillator implanted because his heart was in such good shape.

When Dr. Waters asked him if he had any questions, Bob said, "Can I still go to Ireland this month? One of my sons has a graduation ceremony at Trinity College in Dublin, and I've never missed anything for my kids!"

Bob and Bridget traveled to Ireland one month after his heart attack. Upon returning, Bob began a comprehensive 12-week, 36-session outpatient cardiac rehabilitation program at Lowell General's Heart and Vascular Center that includes medically-supervised exercise to increase his cardiovascular strength and endurance, and guidance about diet and lifestyle modification.
"There was a lot of medical expertise involved in getting me through this," Bob recounts. "And I believe there was a lot of Divine intervention as well."