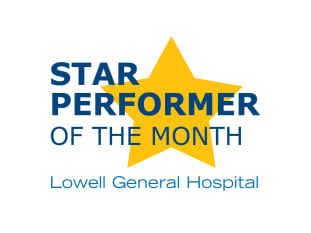 Lowell General Hospital's "Star Performer of the Month" program recognizes employees who exemplify the vision, standards and culture of our hospital.
Employees are nominated and selected by colleagues based on their demonstration of the hospital's standards of performance: Appreciation, Attitude, Presentation, Sense of Ownership, Communication, Commitment to Fellow Employees, Timeliness of Service, Privacy, Safety Awareness and Accountability.
Recognizing our "Star Performers of the Month" is just one more step in Lowell General's vision to become one of the best community hospitals in America.